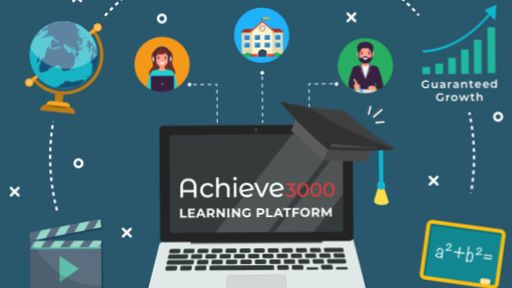 Welcome to the CCS Achieve3000 page! Here, you will find information about Achieve3000, helpful tutorials for reports and tools, and important updates happening in our schools. Achieve3000 accelerates literacy learning growth for all students with differentiated content and instruction. It is proven to double and even triple expected reading gains in a single school year. It is our district's official Tier 2 & 3 literacy intervention and acceleration resource for grades six through nine. Special requests for school or teacher usage are also considered. Achieve3000 is accessible to teachers and students via Clever.

CCS Achieve3000 Secondary School Overall Winners for 21-22

CONGRATULATIONS

to the schools with the highest average Lexile growth for the entire 2021-22 school year, and the honorable mention runners-up! The principals and teachers responsible for Achieve3000 usage in these schools had a solid plan for usage and followed through with determination and celebration. We applaud your school communities for this exceptional effort!

Winner

: Fairwood Elementary with 172L; Thirty-three students were responsible for winning five months of the competition this year in the elementary category.

Second Place: Southwood Elementary with 85L; Southwood students were consistently in the top three every month this school year, as well as the October winners in the elementary category.

Third Place: Columbus Preparatory School for Boys with 83L; The gentlemen students persistently prioritized Achieve3000 in their Core Enrichment classes each week. In the middle school category, they dominated the winning spot four months in a row, as well as one second place.
Office of Teaching & Learning

Sonja Dill

Secondary Literacy Specialist

Support for Accounts & Access

Achieve3000

Amber Harris

Product Manager

Support for Teacher PD & Instruction

Weekly Office Hours for Q&A and Demonstrations:

Mondays:

Fridays:

Zoom Meeting Room:

Upcoming Achieve3000 PD Sessions

Click here for CCS Summer 2022 Professional Development

Achieve3000 Recorded Training Sessions

Access past training sessions here. You will need to register to enter this site, which is designed for CCS educators only.

30 Days to Improving Instruction Mini-Modules

These super-short modules, Collaborative Conversations and Close Reading, are designed for teachers of all subject areas to enhance instructional approaches to develop students' literacy growth. They can be immediately applied in the classroom.