Return to Headlines
Cadets Shared Smiles and Stories with Veterans at the Annual Central Ohio Veterans Stand Down Event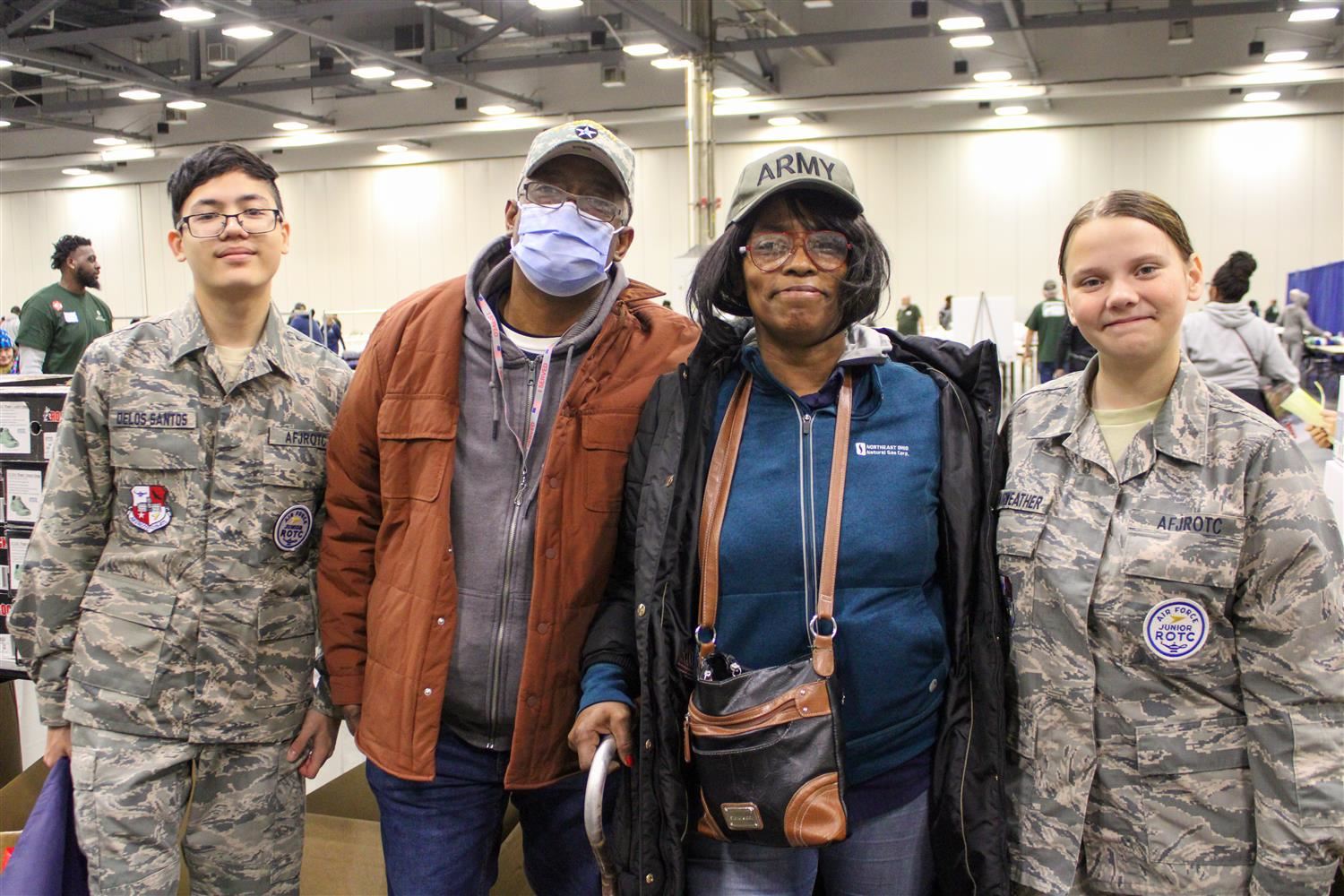 November 3, 2023 – Smiling veterans were given warm winter clothing, groceries, and stylish haircuts as the Fort Hayes Arts and Academics High School Air Force Junior ROTC cadets carried their bags and walked them through the many stations of the Central Ohio Veterans Stand Down event.
"Our OH-871 cadets are helping the Columbus community by assisting 600 veterans at the Central Ohio Stand Down," said retired Air Force Major Ben Klepek, senior aerospace science instructor of the Fort Hayes Air Force Junior ROTC.
The annual event, free and accessible to all veterans, was held at the Greater Columbus Convention Center. Stand Downs are typically one to three-day events that are part of the Department of Veterans Affairs efforts to provide services to veterans. The event is designed to get necessary support and information to veterans, ranging from social security benefits to housing.
U.S. Marine Corps veteran Phillip Garrison of Central Ohio was thankful for the event and had attended the year prior as well.
"I think this is awesome because it allows the young people to see what lays before them after their tour or duty," Garrison said. "The government is really trying to help and do different things to make sure that the veterans are taken care of when they come home."
While waiting in line for services, Garrison shared his story with the young cadets and even challenged one to a push-up contest – which the veteran marine won.
"I loved my service," Garrison said. "When I was in boot camp in West Virginia, I wanted to call my grandfather to come and kidnap me and take me back home. Then, I started getting mentally and physically in shape. That is when I became what I consider a true marine."
Fort Hayes Junior Air Force ROTC cadets Accacia Jackson (12th grade), Kaleah Briggs (10th grade), and Jolie Marvin (9th grade) all said they had a great time learning and connecting with veterans.
"It's fun because you get to ask your veteran all sorts of questions," Briggs said. "Like what branch they were in, what they do, and how their daily life is now that they are out of the military. I even learned from one of the veterans I helped that only 2% of the Air Force actually fly planes."
All cadets sat down with veterans to eat lunch and learn about their time serving the country before veterans headed home. Jackson, Briggs, and Marvin said that hearing these stories motivates them to want to continue their military service after graduating school.
Major Klepek is honored to work with these students daily and is thrilled to watch them proudly serve their community.
"I'm very impressed with the cadets as they continue to follow our JROTC mission to develop citizens of character dedicated to serving their country and community," Klepek said. "They're doing that not just today, but every day, and I'm very proud of them."