Return to Headlines
Phase 5 of the Facilities Master Plan Process Begins October 18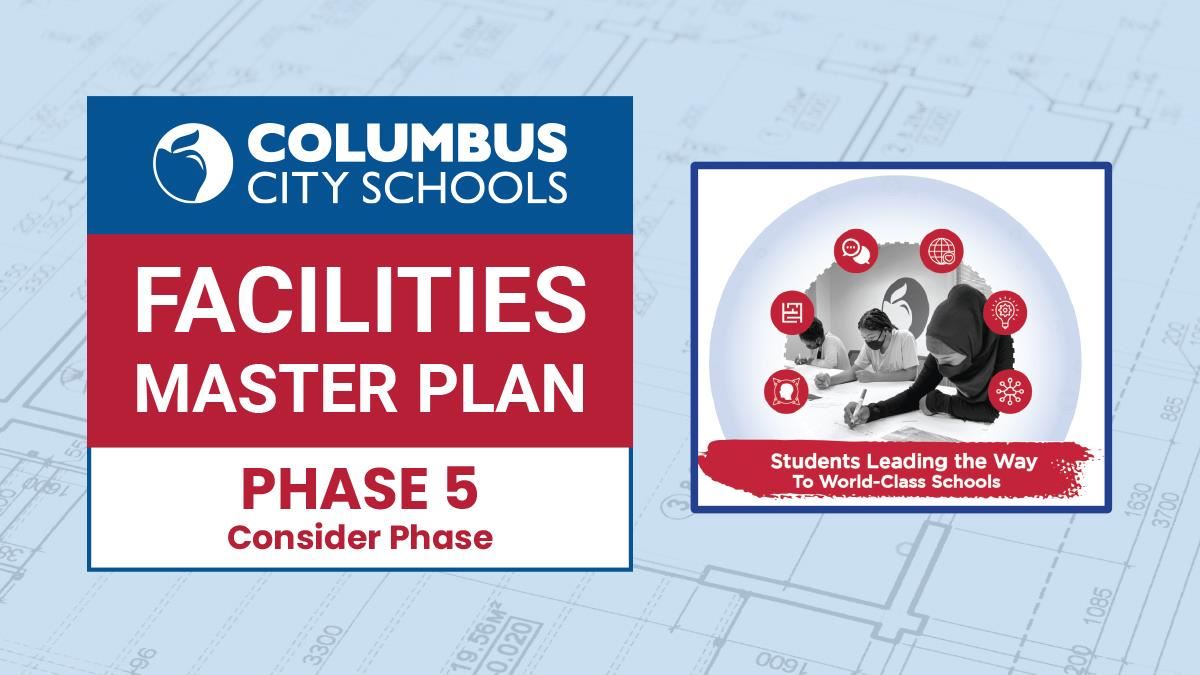 October 13, 2021 -- The Columbus City Schools Facilities Master Plan (FMP) process needs your input now more than ever, as Ohio's largest school district reimagines what 21st-century learning environments look like for our students.
The District is committed to modernizing its infrastructure to provide students, staff, and the community with learning environments and facilities that support 21st-century learning and strengthens partnerships between the school district and the community.
Beginning Monday, October 18, and continuing for the next two weeks, CCS students, staff, families, and community members will have the opportunity to participate in a hands-on simulation exercise as part of Phase 5 -- the "Consider" phase of the FMP process.
This phase promises to be different and more interactive than previous phases. The goal of Phase 5 is to introduce the attendees to the various limitations and opportunities we will face as we work to formulate a new Facilities Master Plan. It will be a very interactive and engaging opportunity to get familiar with the different data points and possibilities within each of the six regions.
Your participation will help the District decide the future of its schools and how those buildings put the more than 47,000 students at the heart of the District's long-term vision and priorities.
It is no secret that many CCS buildings are outdated, unreliable, and impractical. In other words, some schools are more than 60 years old, are forced to close when temperatures are too hot, and have small classrooms that are not conducive to 21st-century learning. By helping the District decide the next steps for these buildings, you are part of the solution. What does that mean for our current school buildings and new school buildings? You can help decide.
Register to participate in one of the following interactive sessions below:
| | | | |
| --- | --- | --- | --- |
| Region | Date | Time | Location |
| Region 5 | Monday, Oct. 18 | 6:00 p.m. | Northland HS |
| Region 2 | Wednesday, Oct. 20 | 6:00 p.m. | Independence HS |
| Region 1 | Thursday, Oct. 21 | 6:00 p.m. | West HS |
| All Regions | Saturday, Oct. 23 | 10:00 a.m. | Main Metropolitan Library |
| Region 4 | Monday, Oct. 25 | 6:00 p.m. | Centennial HS |
| All Regions | Wednesday, Oct. 27 | 10:00 a.m. | Main Metropolitan Library |
| Region 6 | Wednesday, Oct. 27 | 6:00 p.m. | Linden-McKinley STEM Academy |
| Region 3 | Monday, Nov. 1 | 6:00 p.m. | East HS |
Participants should come with an open mind and the expectation that they will engage in activities to ensure they understand the complexities of creating a Facilities Master Plan.
Your participation is key in helping the District decide the future of its buildings and how those buildings inspire creativity and critical thinking and fulfill the mission, vision, and priorities of the District's Portrait of a Graduate.
The results from Phase 5 will inform the sixth and final phase of the process. In this final "Transform" phase, we will ask the community to review the options outlined in Phase 5 and build a consensus around a specific plan that we would refine and ultimately bring to the Board of Education for final approval.
Previous FMP Phases
The first four phases of the multi-step FMP process provided an inside look at our facilities. We first gathered in April 2021 to share the strengths and challenges of our school buildings.
Next, students, staff, and community members envisioned what school buildings should look like in terms of a positive, creative learning space.
We then defined how that vision helps our students and staff be creative, critical thinkers and the role technology plays in our school spaces.
In the most recent Anticipate phase, we compared and contrasted new and old buildings.
The final two phases of the process, Consider and Transform, are best described as the four C's:
Concepts

Costs

Collaboration

Consensus
These two phases are the most critical phases of the FMP process. We need you to help us examine each region and reassess the structure of each region by considering educational and extracurricular programming, grade-level configurations, and the optimal use of existing facilities.
Summary
Now is the time to have serious conversations about which schools in our District need to be replaced sooner than others. Where should these new schools be located? Now is when we need our families, staff, students, and community stakeholders to speak up.
The existing building infrastructure that your tax dollars are supporting was initially designed in the 1970s or before. We need to rethink and redesign together. There are no preconceived solutions for your community's facilities. Let your voice be heard. Register to participate today.