Return to Headlines
Meet a Driving Force as CCS Celebrates National School Lunch Week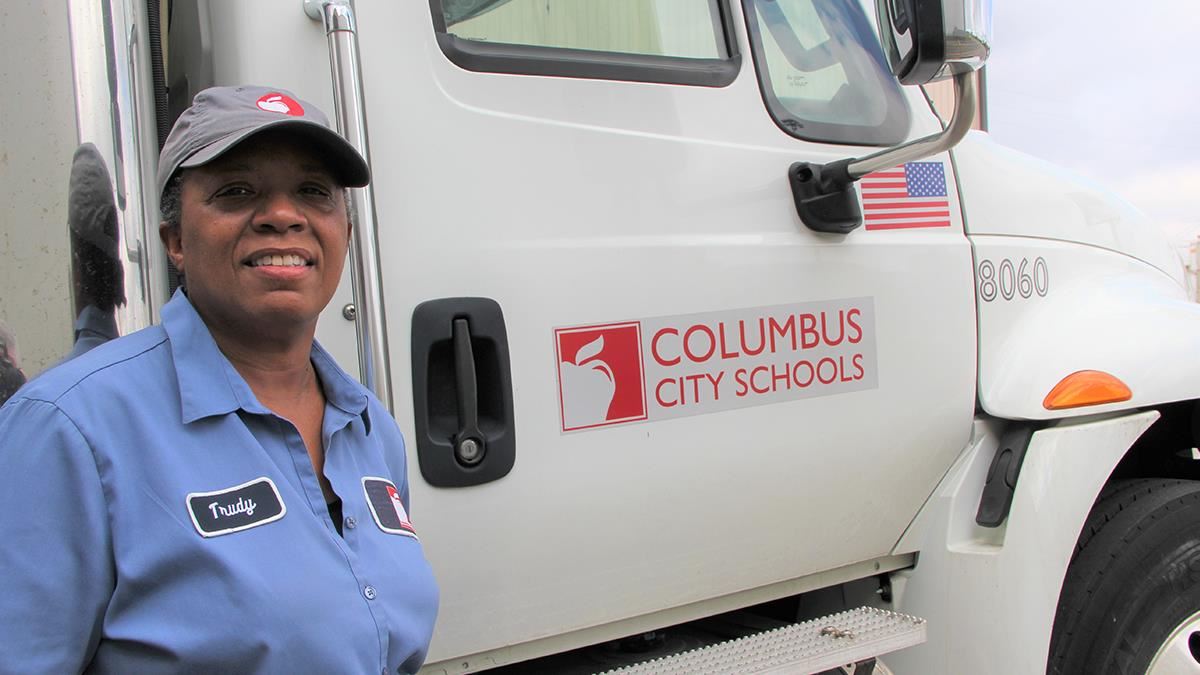 October 12, 2021 -- October 11 - 15 is National School Lunch Week, and at Columbus City Schools, it's worth celebrating when you look at the number of meals served each week.
47,500 free breakfast meals
92,500 free lunches
Don't forget the number of dry goods and fresh produce that is delivered to all 113 schools in the District each week:
1,500 cases of cereal, condiments, and paper supplies
2,000 cases of yogurt, cheese, apples, carrots, broccoli, bananas, and lettuce
Trudy Stubbs is one of eight drivers assigned to the Food Services Distribution Center.
"Our drivers are an essential part of the Food Services Production Center team," said Sean Rogers, Food Production Center Supervisor.
For Stubbs and the other drivers, the day begins at 6:00 a.m. each morning. Every driver inspects their truck then loads it with meals and supplies. Stubbs delivers to ten schools on the northwest side. That's the route Stubbs selected during the bidding process years ago.
"I love my route," said Stubbs. "I love to drive, which helps, but most of all, I love the independence. I am in charge of my truck and the route. If something comes up, I have to be the one to figure it out."
Stubbs is the senior warehouse driver. Twenty-eight years ago, she began her career at CCS as a bus driver but switched to Food Services 21 years ago. Trudy Stubbs was one of the first female truck drivers hired in the District.
"I loved being a bus driver, but it was only five hours a day," said Stubbs. "Working at the warehouse is full-time. That's why I made the switch. CCS has been good to my family and me. It helped me put two children through college."
Stubbs and the other drivers work a day ahead of schedule, so they are delivering meals for Tuesday on Monday. That way, the drivers can respond to an emergency if necessary. They return to the warehouse a little after noon, and before they leave for the day, they organize and refrigerate the meals for delivery the following day.
"The pandemic made me realize how important it is that we get food to our children here at Columbus City Schools," said Stubbs. "My job is essential, and I am proud, especially being a woman who is the senior driver on the team."