Return to Headlines
CCS Celebrates National HBCU Week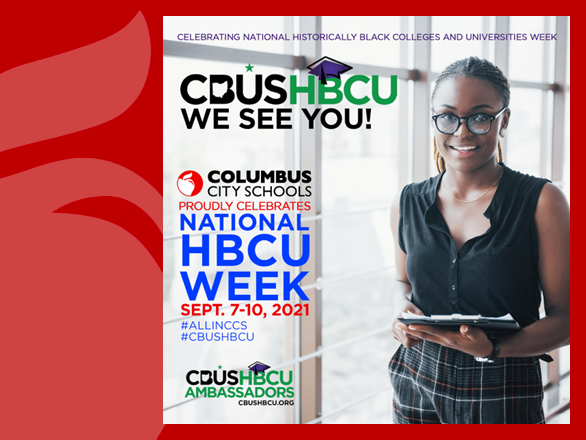 Columbus City Schools Celebrates National Historically Black Colleges and Universities Week
September 9, 2021 -- Columbus City Schools is proud to celebrate National Historically Black Colleges and Universities (HBCU) Week September 7 - 10, 2021. There are approximately 101 HBCUs across the nation.
"The HBCU experience is simply like no other," said Dr. Yolanda Stewart, Assistant Principal, West High School. "HBCUs provide lasting friendships, caring campus communities, commitment to a legacy, leadership, academic excellence, and prioritizes community service."
The mission of CCS and HBCUs is to:
Recruit

:

Encourage high-school students to enroll in HBCUs

Retain

:

Provide funding, leadership, and mentoring experiences for successful enrollment and a pipeline for employment/career advancement

Recognize

:

Share the accomplishments of current students and alumni locally and abroad.
"Our students have witnessed the COVID pandemic, economic distress, and racial injustice in their young lives and in the lives of the people they love," said Dr. Stewart. " HBCUs have a long-standing tradition of being considered a safe haven--a place where students can go to discover more about who they are, learn more about topics that will inspire change, and engage in activities to promote solutions."
This past year, several HBCUs accepted their largest freshman class in the history of their universities. Many believe high school students sought out HBCUs to take a break from the injustices and be in a loving, supportive environment.
"Our students are searching for new ways to positively contribute to society and make a difference in the world," said Dr. Stewart.
CCS has a rich legacy of HBCU alumni serving in the District as teachers and administrators.
This year's HBCU Homecoming is Saturday, December 11, 2021. Visit cbushbcu.org for more information and updates.
Check out the new White House Proclamation on National HBCU Week 2021