Return to Headlines
Students Get Up Close and Personal with Falcons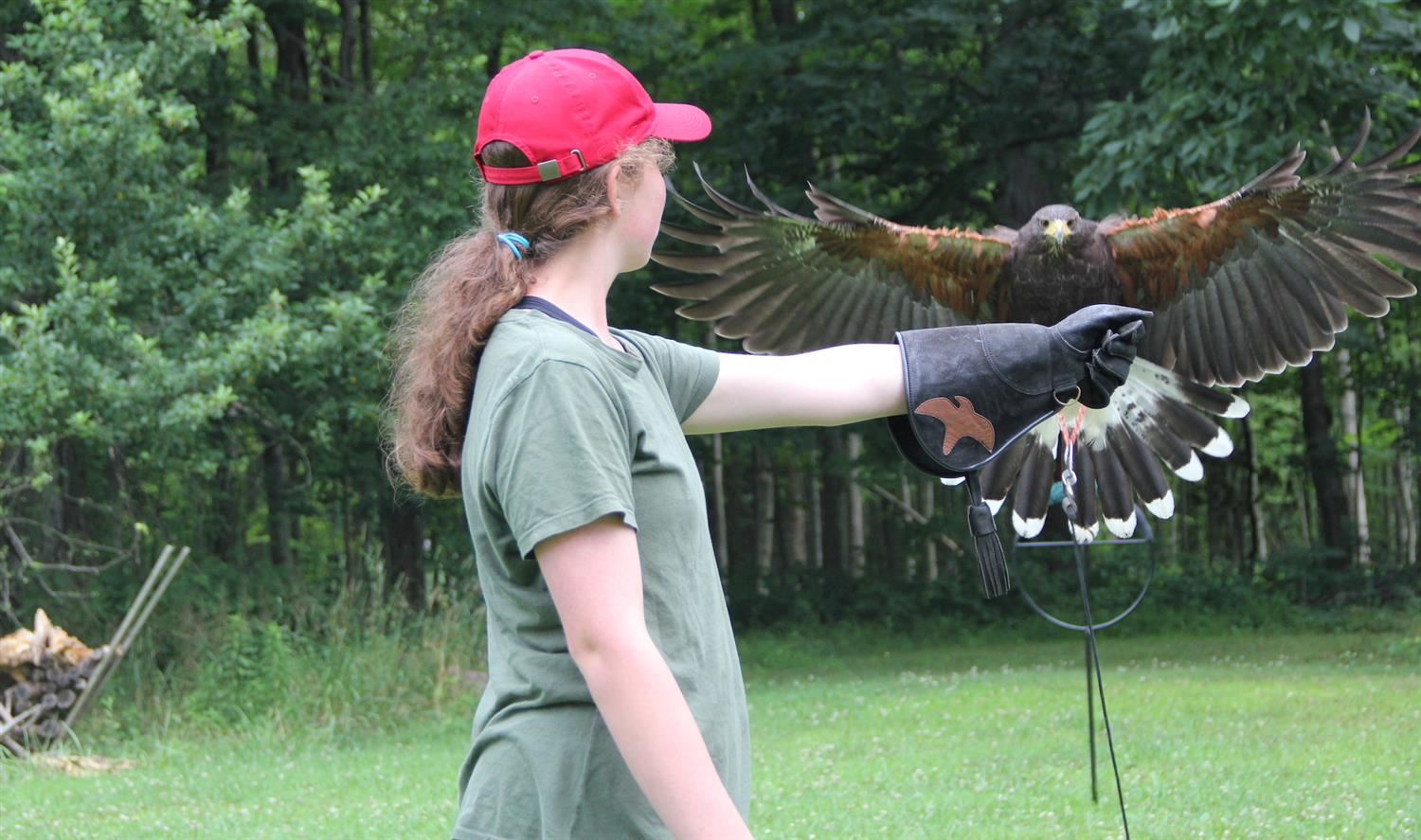 July 16, 2021 -- When Columbus City Schools student Ada Hoppe signed up for a two-week session at Spruce Run, the District's Nature Center, as part of the 2021 CCS Summer Experience, she had no idea she would have a bird eating out of her hand. And not just any bird, but a large falcon, one of the strongest, most powerful predators in the avian world.
"I wasn't scared," said the Dominion Middle School student. "It was kind of cool."
Maybe that's because the bird's owner, Jeff Dorrian, the Ohio School of Falconry director, was just a few feet away, holding a container of chicken thigh pieces, one of the falcon's favorite treats.
"Make a fist, raise your arm, so it's shoulder height, and look at me, not the falcon," instructed Dorrian. "When you turn your head and lock eyes with the falcon, he will fly and land on your gloved arm."
It worked for Hoppe and a half dozen other CCS middle school students enrolled in the Citizen Science and Career Studies course at Spruce Run as part of the CCS Summer Experience.
"This is a magical place," said Geri Granger, Spruce Run's Director. "Spruce Run brings nature and all its beauty into the classroom and the classroom into nature. There are creeks and woods to explore on the 50 acres creating endless opportunities for all our students from kindergarten to the high school level."
During this two-week program, scientists and environmentalists from many fields visited Spruce Run and engaged middle and several high school students who are at Spruce Run this summer as counselors in training. The students met a nature photographer, marine biologist and learned about the Nature Conservancy.
"These guest speakers are all scientists in one form or another," said Granger. "I want these students to see there are many different scientists in the world, and very few are the old guy wearing thick glasses and a lab coat."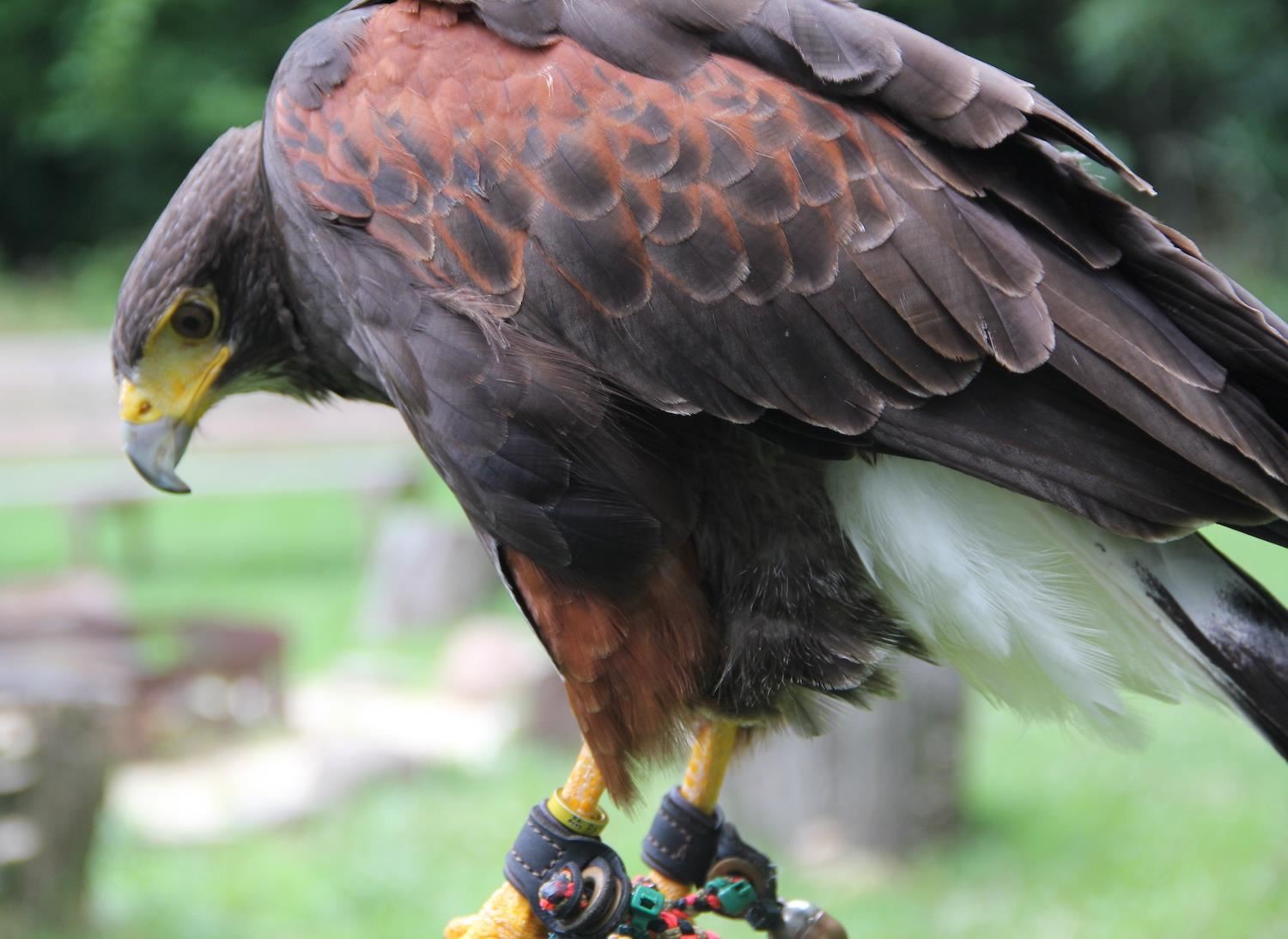 "I have five birds to show you today," said Jeff Dorrian. "I have a buzzard, an owl, and several falcons. "Think of these birds like this, big, bigger, smart, and misunderstood."
For close to two hours, Dorrian had students eating right out of his hand with the information he shared. While his left hand supported each creature, Dorrian filled the young minds with facts and myths about each animal, sprinkling in a lot of humor.
"When this one lifts its tail, get out of the way, especially if you are standing behind this fella because his poop can travel up to seven feet."
While the humor made the time fly, Geri Granger wanted Jeff Dorian to explain to the students how he turned his passion into a successful business.
"Your passion can be your livelihood," said Dorrian. "Look at me. If I can make good money with falcons, buzzards, and owls, then anything is possible."
Dorrian shared with students how he has trained his owl so that it can fly down the aisle and deliver wedding rings to the bride and groom. Dorrian also trains his birds for abatement. Hotels, airports, and resorts hire Dorrian and his birds to scare away critters and other small birds that are nuisances, and in some cases, even dangerous if a bird gets sucked into the airplane engines.
"I have even used my birds to help high-level corporate executives get along better in the workplace so that their team is more productive," said Dorrian. "You have to think of every opportunity that your passion can not only pay the bills but support you and your family."
Whether any of these students go on to become a Master Falconer like Jeff Dorrian remains to be seen, but one thing is certain. Jeff Dorrian showed these students what can happen if they have a dream. In Dorrian's case, that dream of becoming a Master Falconer began in middle school.