Return to Headlines
The Faces Behind Those Free Summer Meals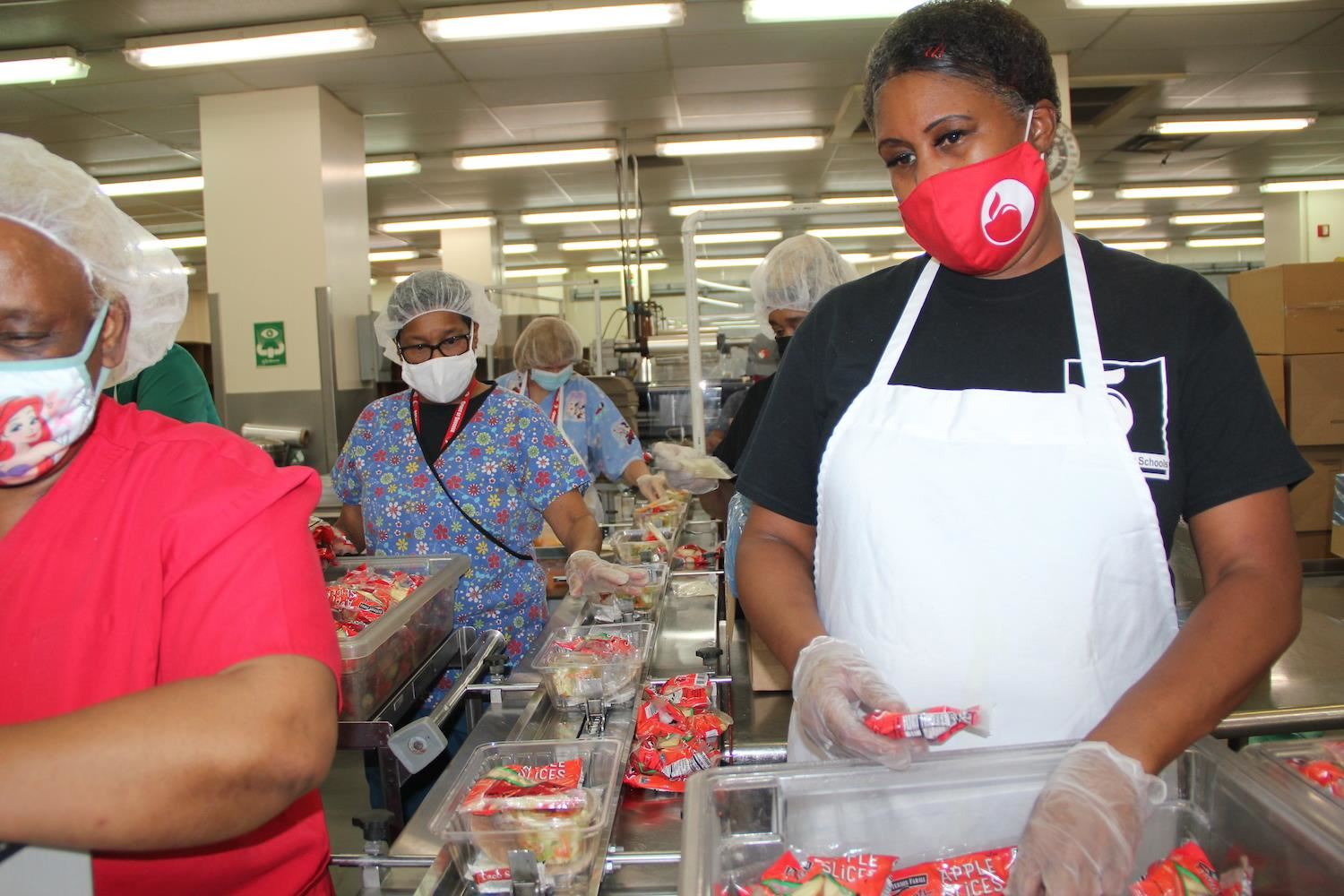 July 15, 2021 -- Over the last year, the Food Service Department at Columbus City Schools has distributed more than four million meals, including more than 169,000 meals between June 7 and July 9. This includes breakfast and lunch during the traditional school year and students currently enrolled in the CCS Summer Experience and the Columbus Recreation and Parks free meal program. Even when the CCS Summer Experience ends on July 23, the food production center at CCS will continue producing and distributing meals for Columbus' free meal program through August 20.
The numbers only tell half the story. Step inside the Food Distribution Center on East Fulton Street, and you will see the faces behind those meals. With hip-hop dance tunes blasting from a boom box, 18 women wearing aprons, hairnets, and face masks are working the assembly line.
"I'm so proud of these frontline workers," said Sean Rogers, Food Production Center Supervisor. "They haven't missed a beat since March 2020 when the pandemic forced everyone home. These workers were here preparing meals. They were essential in getting food to our students and families."
On this day, these women are assembling lunch for the next school day. Like a well-synchronized dance, it literally only takes seconds for the women on the line to fill a plastic container with a lunch. In this case, a veggie taco with all the fixings, including tortilla, cheese, salsa, a fresh vegetable mix, sliced apples, chips, and utensils. Two other workers place the sealed containers in large cardboard packing boxes. Another line worker uses tape to seal each box which is then quickly loaded onto a cart and taken to cold storage until pick up.
"In seven hours, these 18 women will make 12,500 lunches for Columbus City Schools and Columbus Recreation and Park Go Lunch Program," said Rogers. "Don't forget the bottled water. Each student at CCS this summer gets two bottles of water per day since water fountains at school sites are off-limits due to COVID protocols."
With the CCS Summer Experience in its final weeks, it's clear the breakfast favorite is a bagel with cream cheese and WOW butter, hands down. For lunch, it's the Italian sub or cold cut sandwich that's the winner.
"Fruit Loops just became available from Kellogg's," said Rogers. "Fruit Loops are a breakfast favorite too, but due to the pandemic, they were unavailable until now."
Rogers' background as an executive chef helps because a restaurant kitchen and the CCS food distribution center are similar in that both are fast-paced and require quick decision-making.
"I crunch numbers all day," said Rogers. "Everything from keeping track of huge food orders from vendors to monitoring up to 150 delivery sites. It's hectic and exciting."
The one constant is the women on the assembly line make it look so easy.