Return to Headlines
CCS Launches "Women in STEM" Partnership with NetJets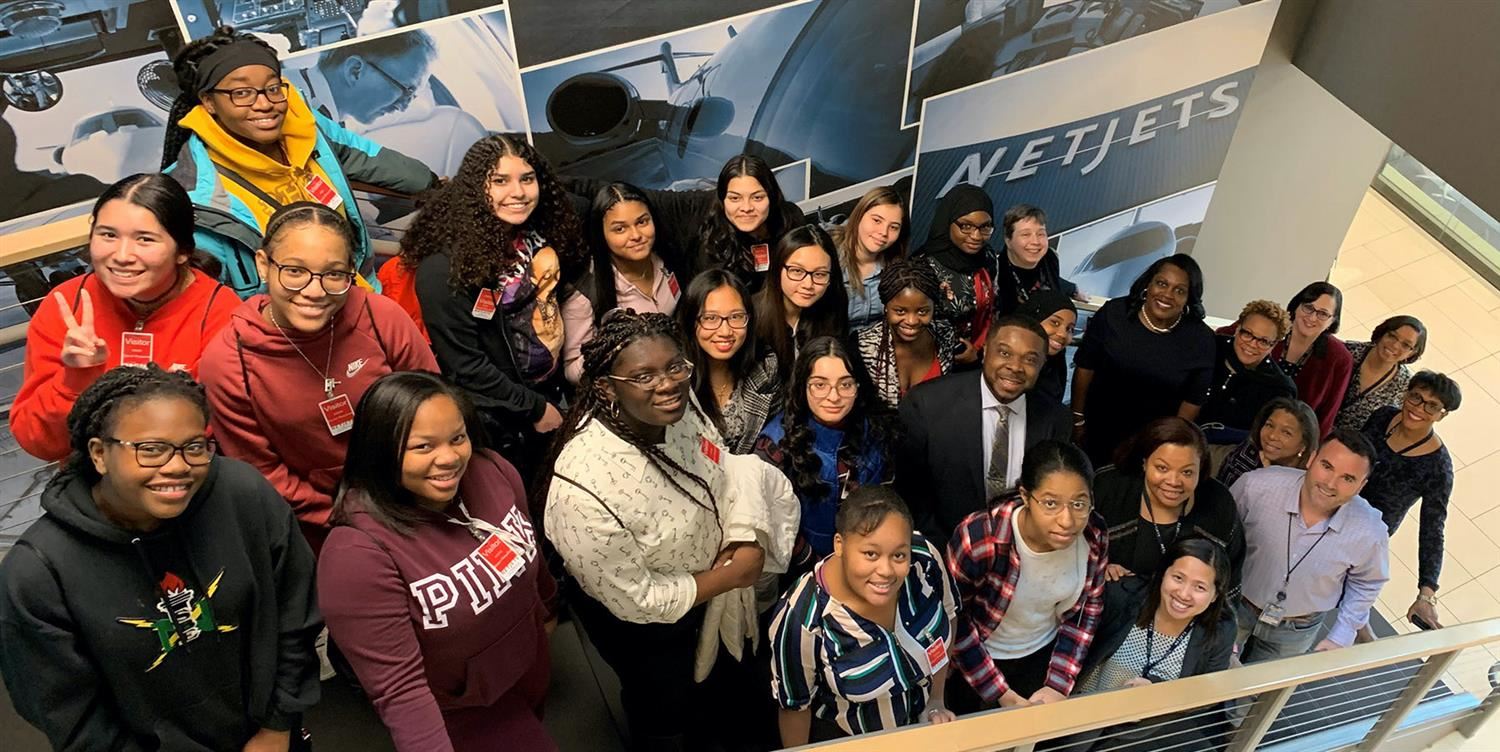 Jan. 31, 2020 -- Columbus City Schools has launched a new partnership with NetJets, the global leader in private aviation, known for safety, service, unparalleled access and the best way to fly private, to develop a mentoring program for female students interested in STEM careers. A total of 18 young women from Beechcroft High School and Northland High School will work in teams with NetJets mentors to design and problem-solve sustainability issues.
During the 10-week program, the ninth- and 10th-grade girls, along with their NetJets mentors, will work collaboratively to design a solution to their chosen sustainability problem and then present their results during a culminating event. The girls will also be exposed to non-traditional STEM-focused career opportunities in the aviation field.
NetJets kicked off the partnership on Jan. 22, hosting the students and Beechcroft and Northland staff members at NetJets headquarters on Bridgeway Avenue. At the event, the girls worked with their mentors to choose sustainability issues to problem-solve such as recycling, composting, and alternative energy sources.
The students took a tour of the NetJets facility during the kickoff event, including the hangar and the inside of a private plane. The girls also talked with meteorologists and additional logistics staff in the NetJets flight control center.
"Our students need access to the entire community, so it is important we take our partnerships and bring them alive for our students," said CCS Superintendent Dr. Talisa Dixon. "We need partners like NetJets who are eager and willing to work in collaboration with the District to provide opportunities and experiences for our students that extend their learning beyond the classroom and expose them to careers for the 21st century."
NetJets is also providing laptop computers for the girls to use during their projects and donating additional laptops and computer towers to the District.
About NetJets
Beginning as the first private jet charter and management company, NetJets has led the industry for 50+ years. Then in 1986, they revolutionized it with the concept of shared ownership and proceeded to build the largest, most diverse private jet fleet in the world. Today, backed by Berkshire Hathaway, NetJets offers a full range of personalized solutions to meet—and exceed—the incredible needs and high standards of the world's most notable travelers.