Return to Headlines
Superintendent's Weekly Message - February 12, 2021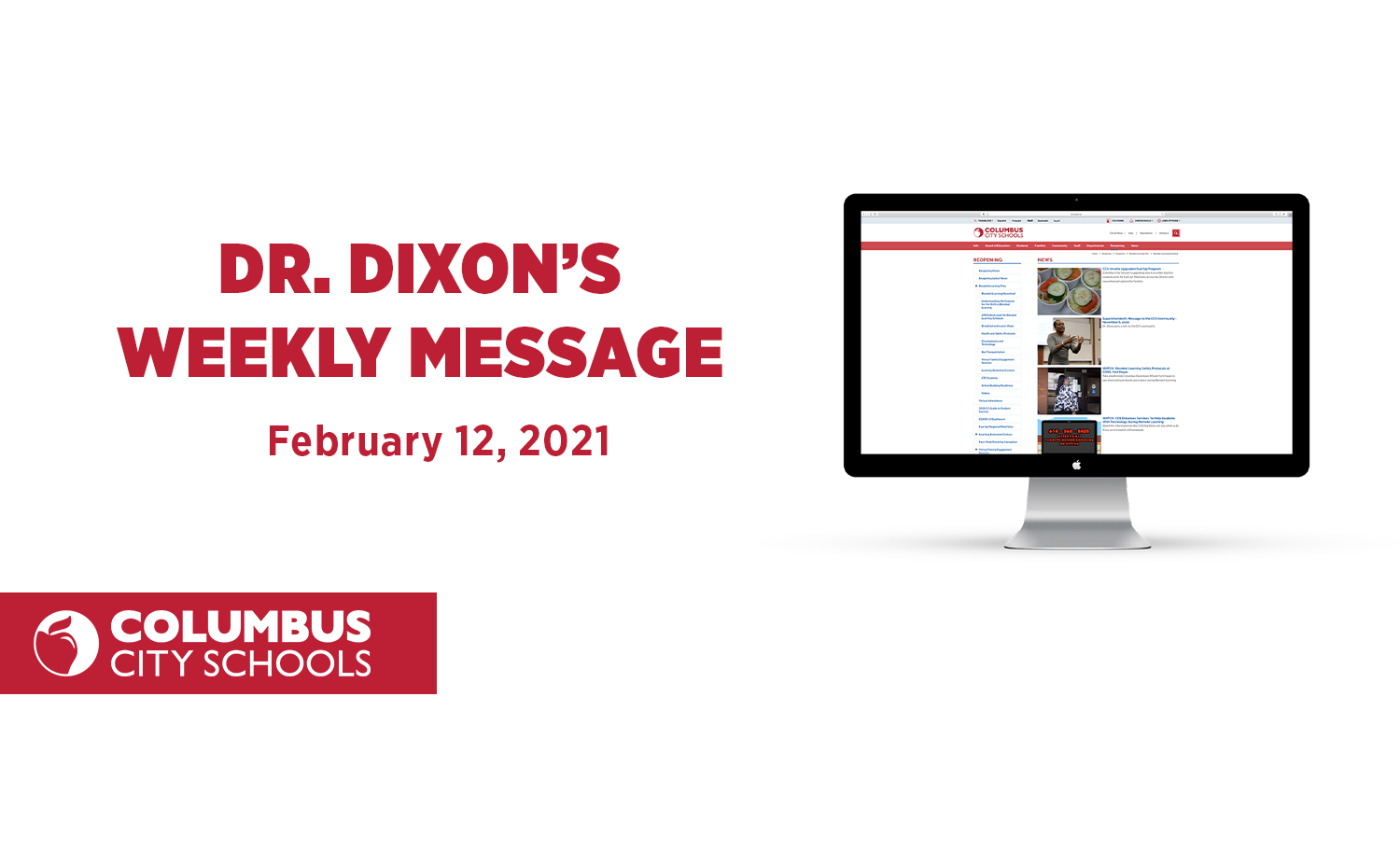 Dear CCS Families,
In my message last week, I summed up our success of returning some of our students to in-person learning in three words, we did it. This week, I want to expand on that. We did it together.
More Students Return to In-Person Learning
On Monday, February 8, we welcomed back Cohort A students in grades fourth and fifth to the classroom. They joined PreK-3 students, students with identified complex needs in all grades and our Career Technical Education students at Fort Hayes Career Center and Columbus Downtown High School who returned the week before.
While masks are now part of our daily dress code, two things that face coverings cannot shield are the care and compassion I saw in each and every school building I visited.
At Huy Elementary School, many of the staff wore specialized masks with clear fronts so the students with hearing loss could see their mouths when they spoke. At Colerain Elementary School, where 50% of the students have an orthopedic or health impairment, not only could I see the excitement, but I could hear how excited teachers and students were to be back in the building after almost a year.
I was there as the school day began at Northgate Intermediate, the only school in the District that is exclusively for fourth and fifth graders. At Southwood Elementary School, I read the book "Counting on Katherine" about an African American mathematician at NASA to a group of fourth-graders celebrating Black History Month.
In total, I have been fortunate to visit 20 different schools around the district in the last two weeks as they transitioned to blended learning. Check out my Twitter feed to see photos from the schools I've visited.
Updated Blended Learning Schedule
All students in Columbus City Schools will learn remotely Thursday and Friday, February 25-26, and Monday and Tuesday, March 1-2. This update to the learning model schedule will allow flexibility for many CCS teachers and staff to receive their second dose of the COVID-19 vaccine.
These remote learning days will be synchronous (teacher-led instruction) for students in grades PreK-5, Career and Technical Education students, and students with complex needs in grades PreK-12. General education students in grades 6-12 will follow their typical schedule, including high school students scheduled to take the ACT.
Many of our teachers and staff will be receiving their second dose of the COVID-19 vaccine in late February and early March. Recognizing there are possible side effects associated with the administration of the second dose, this temporary move to remote learning will allow flexibility for staffing coverage and certainty for our families of students in blended learning.
Even a slight increase in staff absences due to the second dose's potential side effects could result in unplanned school and classroom closures, putting our families in a difficult position.
COVID-19 Vaccine Update for Teachers and Staff
So far, more than 3,500 teachers and staff at Columbus City Schools have received the COVID-19 vaccine. There are still appointments available for teachers and staff members in the next eligible group to receive their vaccinations, by appointment only, through Columbus Public Health through Tuesday, Feb. 16. Staff should check their emails for more details.
Sankofa 2021
Mark your calendars for Sankofa 2021, a celebration of past, present, and future African American leaders in the Greater Columbus community. Columbus Africentric Early College (CAEC) was founded on the principle of Sankofa. That's an African word that means looking back to grow and move into a more productive future. On Feb. 23 at 7:30 p.m., CAEC will present Sankofa 2021. The leadership event will be broadcast on NBC4 Columbus. For more information, click here.
Relationship Week
This week Columbus City Schools celebrated the Fifth Annual Columbus City Schools Relationship Week. Each day, there were suggested activities to reaffirm our compassion, respect, trust, and care for one another.
Please take a moment to complete a family survey. This information will help us identify and strengthen our work and commitment to you, our students, and our community.
Sincerely,
Talisa Dixon
Superintendent/CEO, Columbus City Schools