Return to Headlines
Superintendent's Weekly Message - February 5, 2021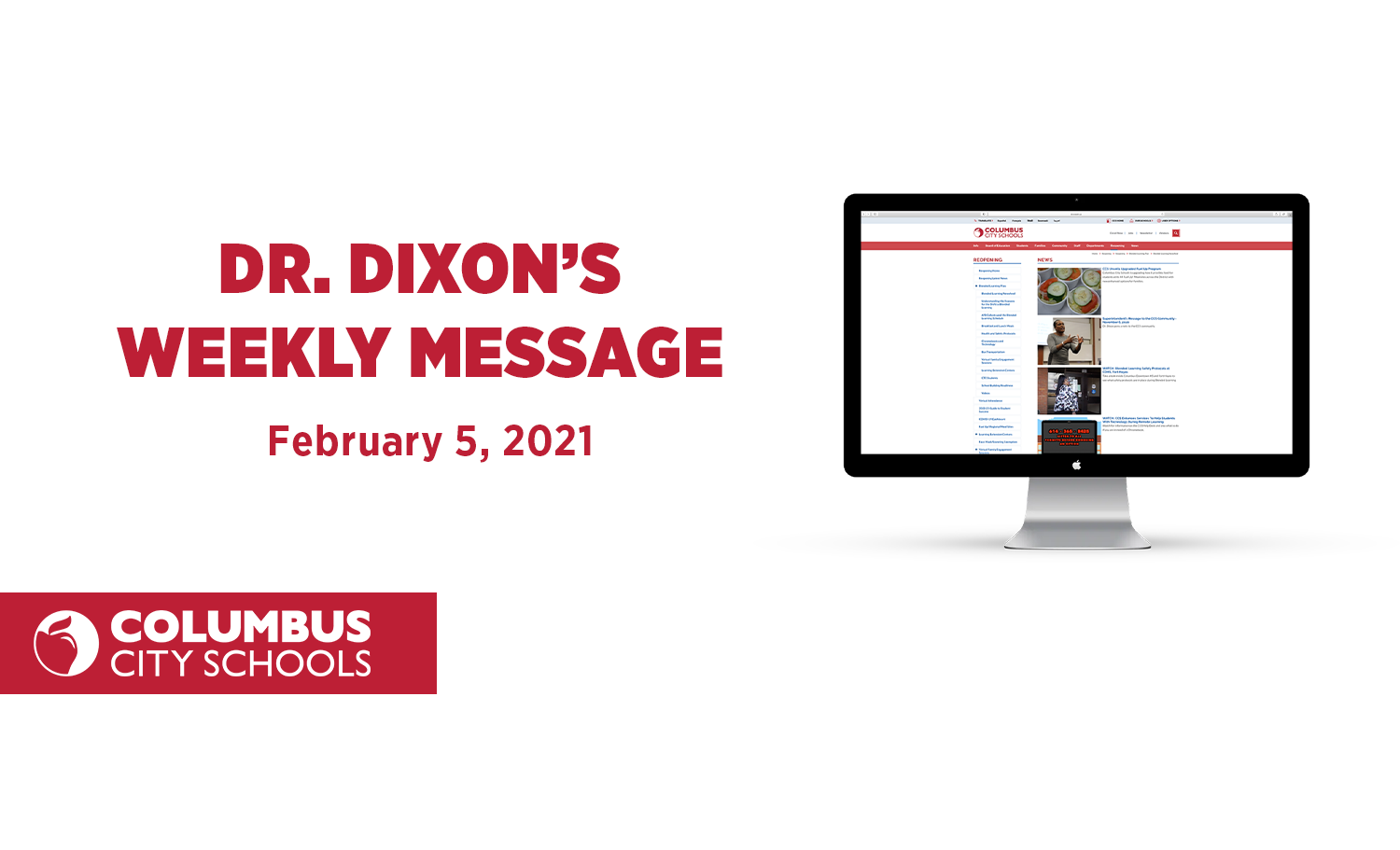 Dear CCS Families,
As the end of February's first week comes to a close, I reflect on three words I have repeated several times. We did it.
Our success can be measured this week in three categories:
Students returned to classrooms

COVID-19 Vaccine Update for teachers and staff

Continued support for our CCS families
Students Returned to Classrooms
On Monday, February 1, we welcomed back our Cohort A students in grades Pre-K-3, students with identified complex needs in all grades, and our Career Technical Education students at Fort Hayes Career Center and Columbus Downtown High School. We saw an 84% attendance rate as these students transitioned to in-person blended learning.
The bus compound on Frebis Avenue was my first stop Monday around 6 a.m. Our bus drivers are the first and last people our students see each school day. I visited several schools around the district by the time students were dismissed. Even with the masks, I could tell teachers, students, and staff were smiling when they saw each other in person for the first time in nearly a year.
Our second "in-person first day" was yesterday. Columbus Mayor Andrew Ginther and I braved bitterly cold temperatures to welcome back Cohort B students at Livingston Elementary School on Thursday morning. I also made stops at Moler Elementary School, Lindbergh Elementary School, Valleyview Elementary School, Westmoor Middle School, and Eakin Elementary School.
At Eakin, I was inspired by two teachers -- sisters, actually -- who attended Eakin as children, graduated from West High School, and have now returned to the District to teach and give back to their west side community.
Over the next two weeks, we will celebrate two more firsts. On Monday, February 8, and Thursday, February 11, grades 4 and 5 will join the youngest learners as they return to our school buildings for the first time in more than eleven months. And we may not be done. As I shared at Tuesday's Board of Education meeting, we are still working trying to figure out how to bring back more small groups of students back into our school buildings.
COVID-19 Vaccine Update for Teachers and Staff
So far, more than 1,300 teachers and staff at Columbus City Schools have received the COVID-19 vaccine. By next Wednesday, we expect that number to double as more than 3,000 CCS personnel have scheduled vaccination appointments over the course of this first week. Teachers and staff members in the next eligible group are expected to receive their vaccinations, by appointment only, through Columbus Public Health beginning Wednesday, Feb. 10 through Tuesday, Feb. 16.
Continued Support for our CCS Families
Waiving Senior Fees for the Class of 2021
The Board of Education heard the first reading of a resolution at its Tuesday meeting to waive the $70 senior fee for the Class of 2021 due to the ongoing health pandemic. The fee could be a hardship for students and families who may be struggling.
Hot Spots
Board members approved the purchase of an additional 1,000 wireless hot-spots for the remainder of the 2021 school year for students and families who do not have internet access at home. There is an increased need so students can access the online curriculum. If you need a hotspot, please contact your child's school.
Relationship Week
Caring and supportive relationships are critical to the learning, well-being, and success of our students. Every day across Columbus City Schools, we have staff, students, families, and community partners who are dedicated to building positive, inclusive learning environments. This week Columbus City Schools celebrates the Fifth Annual Columbus City Schools Relationship Week February 8-12 by taking part in activities each day that reaffirms our compassion, respect, trust, and care for one another.
Together let's start with hello, provide one act of kindness, offer forgiveness, celebrate diversity and provide and nurture environments of inclusion.

During the week, families will have the opportunity to raise their voices through a family survey. Please take a moment to complete the survey. This information will help us identify and strengthen our work and commitment to you, our students, and our community.
As we celebrate Black History Month, let me paraphrase a quote from a great African-American leader in education that is very fitting when contemplating the accomplishments in the last five days at Columbus City Schools. Booker T. Washington said that success is to be measured not so much by the position that one has reached in life as by the obstacles which one has overcome while trying to succeed.
Sincerely,
Talisa Dixon
Superintendent/CEO, Columbus City Schools