Return to Headlines
Superintendent's Weekly Message - April 9, 2021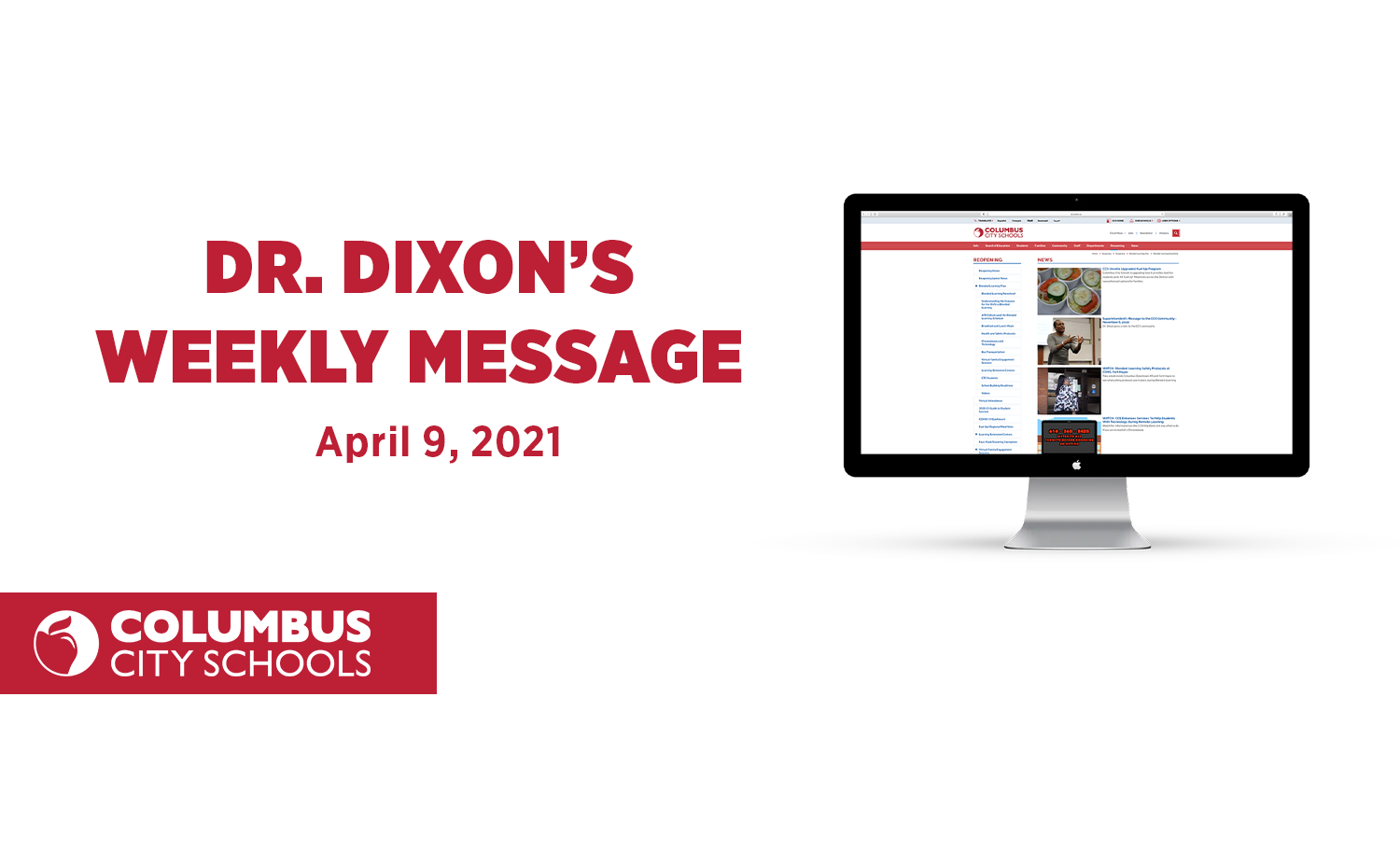 Dear CCS Families,
Welcome Back from Spring Break! I hope your time away was restful and restorative. I am confident our return to school and study will be met with enthusiasm and vigor. As we look in front of us, there is one last hill before the finish line. Eight short weeks to wrap up this unprecedented year and celebrate our graduating seniors, the Columbus City Schools Class of 2021.
Just as we successfully returned our students to the classroom for blended learning on February 1, we can conquer this next milestone. Together, we are strong and capable of success.
Continue to push, exert yourself, and strive for greatness whether you are in the classroom or learning remotely. Use the next eight weeks to challenge yourself and commit to your studies.
Save the Dates: Vaccines for CCS Students Ages 16 and Above
I am proud to say that Columbus City Schools is partnering with Nationwide Children's Hospital (NCH) to provide our students, ages 16 and above, with the opportunity to get the COVID-19 vaccine in the coming weeks.
Students will be able to register to receive their first dose on one of three Wednesdays -- April 21, April 28, or May 5, based on their Region. The corresponding second doses will be administered on May 12, 19, or 26. Students will receive the Pfizer vaccine, which requires two doses, as that is the only vaccine currently approved for this age group.
Complete details will be sent to families of eligible students next week, including information on how to register for an appointment and how to access CCS yellow bus transportation to and from NCH.
To accommodate the anticipated large groups of CCS students wishing to receive the vaccine and ensure the proper refrigeration and safety protocols, the vaccination clinics will take place onsite at Nationwide Children's Hospital. Students will be required to use CCS transportation to receive a vaccine at NCH.
Here is a helpful and informative article from an infectious disease expert at NCH that dispels common myths about the COVID-19 vaccine.
Register Today For a Summer to Remember
Let us help you when your child says, "What am I going to do this summer? I don't want to sit around the house all day like last summer." Give your child a summer to remember by registering them for the Columbus City Schools Summer Experience. Free, engaging, in-person learning plus outdoor adventure camps on 50 acres of land near Hoover Reservoir. Breakfast and lunch will be provided along with yellow school bus transportation for elementary and middle school students. Visit the Summer Experience Hub on the CCS website for information and videos about our summer programming lineup for all CCS students, PreK through 12.
To register your child, visit your Parent Portal. If you need assistance, reach out to your child's school, as school secretaries can also register your child.
The 2021-2022 School Year
As I shared earlier this week at the Board of Education Meeting, we intend to return to five days a week in-person learning for the upcoming school year at Columbus City Schools. Planning is underway and an announcement about what learning options will be available for families will be coming soon.
Join The Conversation to Shape CCS
Starting April 19, the Facilities Master Plan Committee will kick off several virtual community conversations about the future of the Districts' facilities. Your input is needed. This is an opportunity for you to help shape the future of our school buildings and classrooms and what they look like to meet our mission and vision.
Please complete the survey linked here to sign up for a Regional Community Conversation and submit your initial feedback on the state of the District's school facilities.
Your Feedback Needed
What do you think about the Columbus City Schools website? How can we improve our site to better serve our visitors? The CCS Communications Department is redesigning the District website. To create the most effective web experience, we need your feedback. The survey is anonymous, available in multiple languages, and will help inform the redesign process.
Ushering in the spring season is refreshing. The blossoming trees and early flowers pushing through the earth are proof things are coming to life! Let that renewal motivate us to get to the finish line of the 2020-2021 academic year.

Sincerely,
Talisa Dixon
Superintendent/CEO, Columbus City Schools