Return to Headlines
Eighth Grade Scholars Help Solve Real-World Problems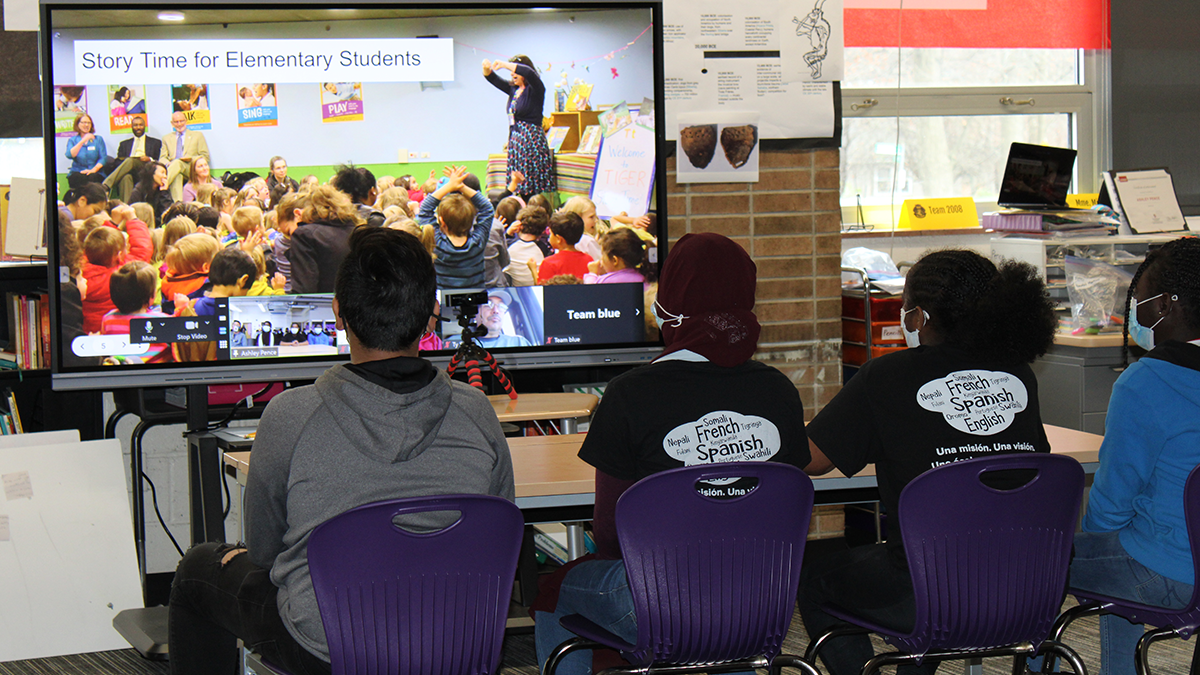 December 8, 2021 -- Education is a multifaceted concept that transpires well beyond what we read in a book. Eighth grade English as a Second Language (ESL) students at World Language Middle School are experiencing this firsthand, as they work their way through community-based problem-solving projects using the Korda Institute for Teaching method.
The Korda Institute is an Ohio-based nonprofit whose singular mission is to transform schools. They work with hundreds of educators globally to change the way teachers teach and students learn.
"One of the fundamental components of the Korda Method is to engage students with community members to solve real-world problems," explained ESL Teacher Ashley Pence, who received training from the Korda Institute in 2018. "They are presented with an issue and asked to help solve the issue."
The students just completed their second project for the year. For this project, they partnered with the Native American Indian Center of Central Ohio (NAICCO), a non-profit organization devoted to preserving and restoring balance in the lives of Native Americans through traditional, cultural, educational, family, community, and wellness driven values and initiatives.
According to Pence, NAICCO was a strategic choice for the project because it aligns with the eighth grade curriculum, learning about colonialism and the first Americans. With the help of NAICCO, the students have explored beyond the historical lens and now have an understanding of the connection between history and the current context of Native Americans.
"There is always a connection between history and real people with real problems," Pence said.
On November 9th, the class attended a virtual field trip. Ty Smith, NAICCO project director, spoke to the students and provided a virtual tour of their building. He explained that they encompass over 100 tribal representations and that they are the only viable urban Indian Center in Ohio. While NAICCO strives to gather Native Americans to build and maintain a community, Smith said they sometimes feel invisible and unheard, hence the issue at hand.
"What can NAICCO do to increase Native American visibility in Ohio?" Smith asked the students. "Can you create a plan to increase NAICCO's visibility and raise awareness of the current context of Native people in Ohio? We need to break negative stereotypes and show who we are in a positive way."
Smith provided an example of one way NAICCO is working to increase Native Americans' visibility. They opened NAICCO Cuisine, a Native American food trailer, in October 2020 as a way to share their culture with the rest of Ohio through authentic Native American street food.
After the virtual field trip, the students spent three weeks researching, conducting interviews, gathering data, and working together to complete their projects for presentation. In groups, they presented their ideas to NAICCO virtually, in a Zoom meeting.
Fifteen-year-old Natnael, who moved here from Ethiopia two years ago, loved the food trailer idea but had some other ideas as well.
"I interviewed some people for the project and learned that a lot of people get their news from social media more than television or the paper. So I think NAICCO should increase their social media presence," the 15-year-old explained.
Teran, who moved here from Eritrea, a northeast African country, three years ago, had another idea. Because she recalls many of the stories she heard when she was younger, she suggested NAICCO find a way to reach younger children.
"Before this project, I only knew of Native Americans from learning about Thanksgiving. So, I think NAICCO should visit more schools to teach kids about Native American history and culture and write storybooks for young kids," Teran said.
The class received wonderful feedback from NAICCO for all their hard work and excellent ideas. With the diverse student population, Smith also encouraged them to use this project for themselves and to reflect on who they are, where they came from, and how they can share their cultures to create a positive impact on our community.
"Embrace your ethnicity and share it with the world," Smith urged.
Guinea native Oumou agreed about the importance of embracing one's culture and is very thankful for this learning experience.
"In my country, we learned about French history, so this was my first time learning about Native Americans. It really made me think about all the different cultures and my own too, and how important it is to share that with each other," said the proud thirteen-year-old. "I am really thankful for this project. It has been a really fun way to learn."
The class will be completing two more projects this year. Pence said since implementing the Korda method, she cannot imagine teaching without it.
"I hear things from students now that I never heard with lecture-based teaching," Pence exclaimed. "The teamwork involved really drives their motivation and empowers the students to become problem solvers. I absolutely love it."