Return to Headlines
Mentorship Program Developed by Students for Students at Linden-McKinley STEM Academy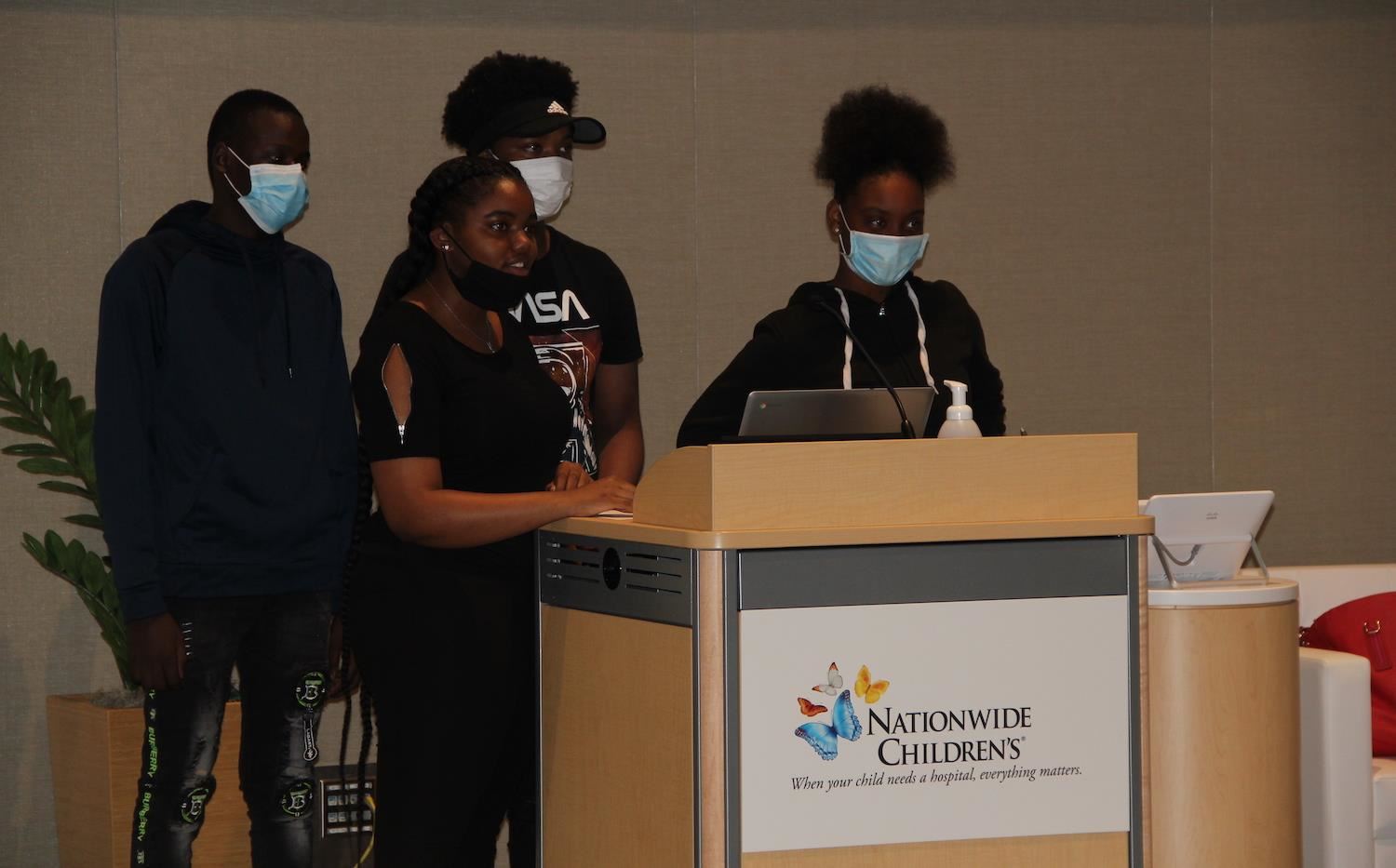 July 28, 2021 -- Alana Veach has been teaching for sixteen years, but her assignment with the Columbus City Schools 2021 Summer Experience was a first for her. In three weeks, Veach and another teacher, Isabel Peña, worked with students to create a mentorship program at Linden-McKinley STEM Academy with Nationwide Children's Hospital. The final assignment was to present the mentorship plan in-person to a team at Nationwide Children's.
"This was the most incredible experience of my teaching career," said Veach, an English teacher at Linden-McKinley STEM Academy. "I had the best time this summer working with my students who worked non-stop for three weeks developing all aspects of the mentorship."
This assignment was one of several social justice projects offered this summer at CCS in partnership with the Korda Institute, a non-profit organization changing how teachers teach and students learn. Students interviewed fellow high school students, school administrators, and community members, conducted research, and collected and analyzed data to determine the three components needed to create a successful, lasting mentorship program. They are:
Financial Incentives

Mental Health Stability

Mentorship Activities
Students shared that financial incentives would attract more students to sign up for the mentorship program. One student said, "We're not talking about receiving a paycheck, but a gift card for food or school supplies would be beneficial."
Another group of students focused on mental health stability and how mentors could help improve school absenteeism. One student said, "Acceptance that mental health instability exists and should not be stigmatized is important. Students need someone to talk to who understands depression and anxiety because research shows that mentors and therapeutic relationships help the healing process."
The third group of students shared a list of activities that would make the mentorship work. Activities include participating in athletic activities, going out to eat, or taking a walk in the park.
One student said, "This mentorship will not work if all that happens is the student sits with their mentor in the school cafeteria and talks" She went on to say, "Students feel so much pressure to focus on academics while in school. Students need someone who will listen to them and not do all the talking outside the classroom and not during school hours."
"I'm so glad this was not another summer class with a worksheet that you turn in, and I grade," said Veach. "Can't walk into a board room with a worksheet, can you? Have to figure out real solutions to real problems. That's what these students did in three weeks."
"This summer school experience got me excited about teaching again," said Isabel Peña, who just completed her first year of teaching at Walnut Ridge High School. "Students had fun and were engaged with this summer project in a way I have never seen before."
The team from Nationwide Children's was so impressed they had one more request of the students.
"Would you participate in the training of our mentors as we implement some if not all of what you presented?" asked Nick Jones, Director Community Wellness Nationwide Children's Hospital.
The CCS students gladly accepted the invite and shared what this summer experience meant to them.
"Before this summer, I would go to my AP courses, do the work and get good grades," said Sharya Holloway, an eleventh-grader from Fort Hayes Arts and Academic. "This experience taught me the value of re-do's and all the revisions necessary to make a great plan."
"I learned that you have to climb over your failure," said Robert Gene Brundage III, a Marion-Franklin tenth-grader. "Don't let your breaking point break you, move past it."