Return to Headlines
Superintendent's Weekly Message - April 16, 2021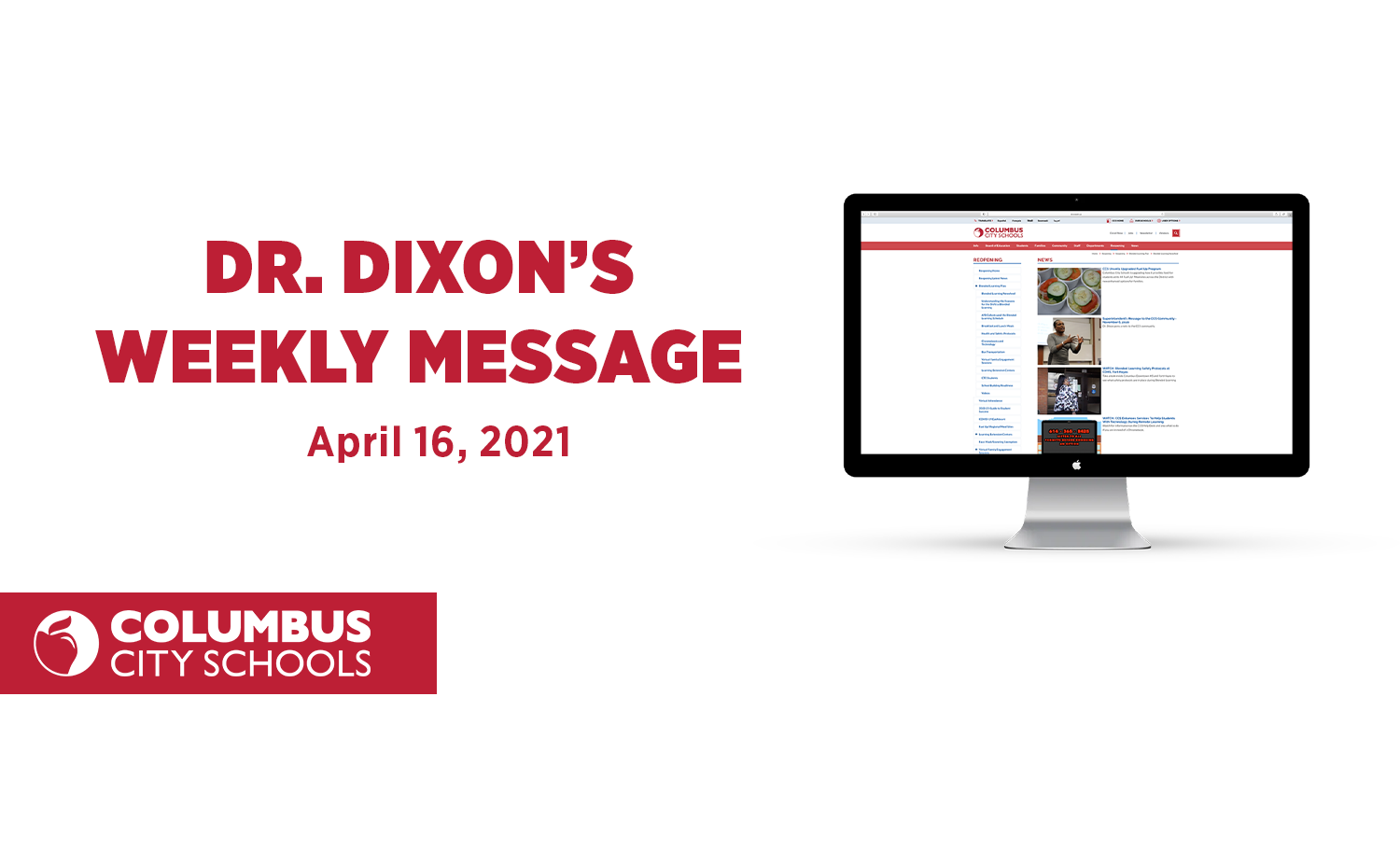 Dear CCS Families,
What a busy first week back from Spring Break! We are using these final eight weeks of the school year to focus on the needs of our students both in and out of the classroom. Keeping them safe while engaging and developing their minds, especially this summer, continues to be priorities. Planning for the 2021-2022 school year and beyond is also underway while we continue to shower our seniors with special attention making sure they get to the finish line and graduate.
COVID-19 Vaccination Clinics for Students 16 and Older
Last week, I shared that we were partnering with Columbus Public Health and Nationwide Children's Hospital to provide all students age 16 and older with the opportunity to receive the Pfizer COVID-19 vaccine.
We are moving forward with plans to offer clinics beginning April 26.
The District will host free regional COVID-19 vaccination clinics for all CCS students who meet the age requirement at four designated high school sites.
The District has created an online registration process for families to register, provide consent, and select their requested appointment time. Next week, families of students who meet the age requirements will receive an email with instructions on how to register their student.
Parents who wish to have their student, age 16 and older, receive the Pfizer vaccine must fill out a consent form before they will be permitted to receive the vaccine.
Be a Part of the Conversation
On Monday, the Board of Education Facilities Master Plan Committee begins a series of community conversations about the future of our school buildings. The District is taking a regional approach to these virtual meetings to bring more voices, more ideas, and more innovation to the conversation. We owe it to our students to invest in our school buildings to meet our students' needs and help us develop these young minds into productive global citizens of the 21st century.
Register Today For a Summer to Remember
Teachers have started their professional development training for the 2021 Summer Experience. This week, the PAST Foundation began meeting with CCS middle school teachers on dynamic, innovative, hands-on learning for our middle school students. The programs include Robotics, Fashion, Medical, CAD 3D Printing, Cybersecurity, Aviation, and E-sports. Those course offerings, times, and locations can be found on our Summer Experience Hub on the District website. Click on the Middle School tab to discover more.
More than 2,300 students have registered for our summer programs. If you have not enrolled your child, I want to encourage you to do so. While our Summer Experience will focus on critical thinking, creating, and collaboration, there is also an opportunity for credit recovery if needed. You can sign up your child by logging into your parent portal. If you need assistance, reach out to your child's school, and they can sign your child up.
Senior Fest '21 House Party
We have seven short weeks until graduation. As we continue to shower our seniors with love, I want to personally invite all seniors to our next Senior Fest event, "Senior Fest '21 House Party." It's this Wednesday, April 21, at 1:00 p.m. The House Party is a virtual event that features four rooms, three DJs, special guests, surprises, and giveaways. Make sure your graduating senior gets registered.
Your Feedback Needed
What you think about the Columbus City Schools (CCS) website matters. How can we improve our site to better serve you? The CCS Communications Department is redesigning the District website with the new site expected to launch in the summer. To create the most effective web experience, we need your feedback. The survey is anonymous, available in multiple languages, and will help us during the redesign process.
In closing, I encourage all of you to be vigilant when it comes to safety. We continue to be in touch with our local health experts at Columbus Public Health. As we have done throughout the pandemic, we will follow their guidance and recommendations. We expect our blended learning model to continue as it is currently. Since we transitioned to blended learning in February, we have prioritized keeping as many students in blended as possible -- that means we have transitioned individual classrooms or grade levels to remote learning before we transition an entire building or even the entire school district. We have a chart on our website that shows the learning model status for each grade level of each building.
Vaccines are one factor when considering layers of protection for students and staff, along with masks, PPE, hand washing, and social distancing. We were able to get more than half of our 9,000 total employees vaccinated in February and March, and we are looking forward to getting many of our students vaccinated in the coming weeks ahead.
Sincerely,
Talisa Dixon
Superintendent/CEO, Columbus City Schools