Return to Headlines
Superintendent's Weekly Message - December 11, 2020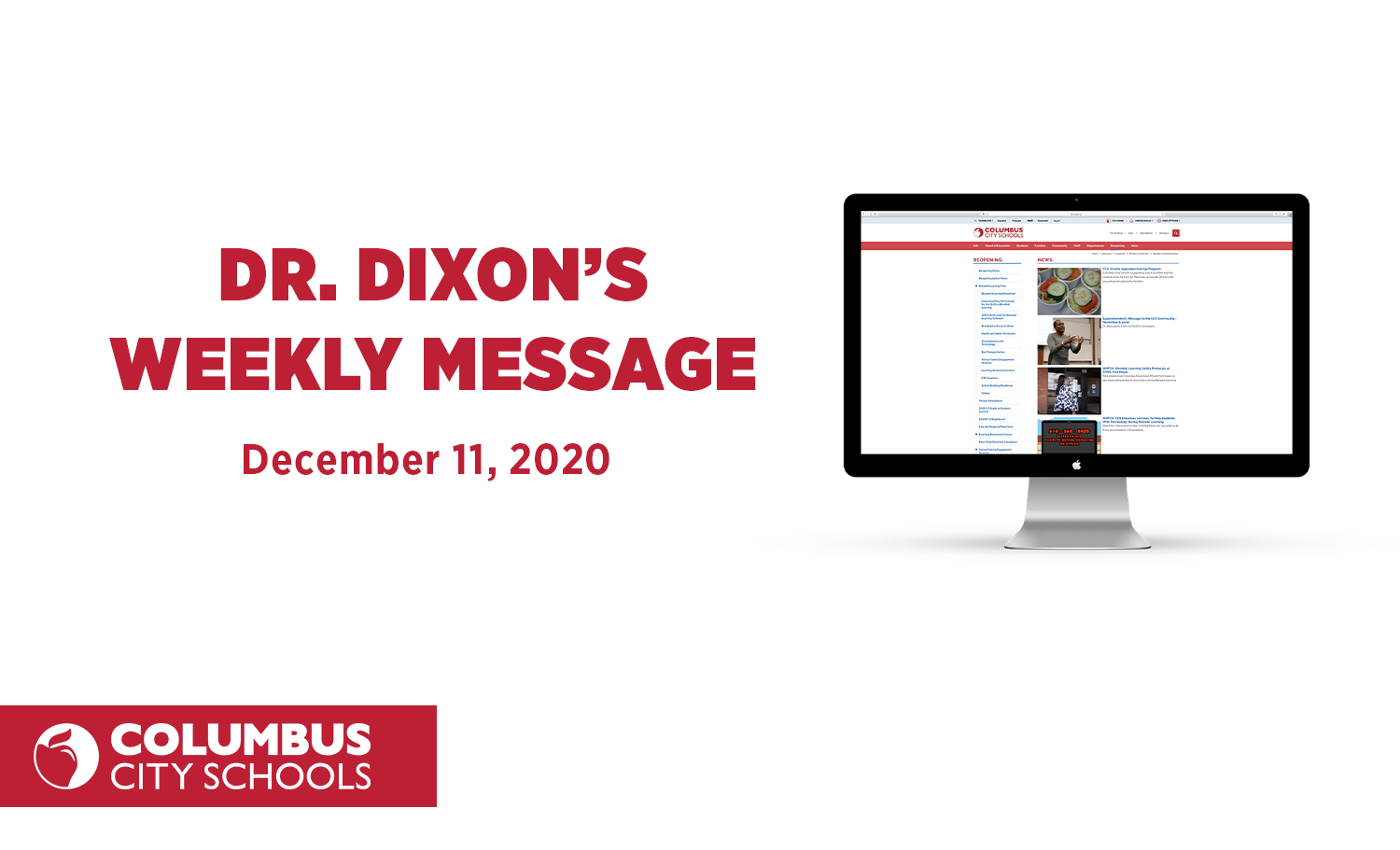 Dear CCS Community,
I am sure many of you saw the messages that were sent out earlier in the week about the "Check and Connect" initiative we are launching next Wednesday, December 16. CCS staff volunteers and district partners will be making phone calls to EVERY student household in Columbus City Schools.
This district-wide initiative is ambitious, but it does not replace the daily connections that so many of our teachers and staff members make with students and their families. During this time of remote school and remote work, regular and frequent connections are critical to staying connected as one community. I commend and thank our school staff members for their ongoing efforts to make these connections.
It is my hope that our district-wide initiative next week is another layer of encouragement and support for our families, some of which may be struggling as we head into the holiday season. Our calls will be opportunities to share vital resources that our families can access.
Click here for more information on the resources available in our community.
CCS families should receive a call on Wednesday, December 16, between the hours of 4:00 - 7:00 p.m. Please take a moment to chat with the CCS staff person or community partner who calls (they may be using a phone number you don't recognize). They won't ask for personal information, but please feel free to share with them your experiences and the challenges you may be facing to stay engaged and connected.
Thank you to the hundreds of CCS staff members who have already signed up to volunteer next week. Today is the deadline to volunteer, and I encourage all staff members to consider participating in this important endeavor.
Transportation Survey
Families with students who are eligible for transportation should be receiving a phone and email message soon with a two-question survey in the Parent Portal.
In order to provide efficient transportation services when we move to a blended learning model, we are asking families if they wish to "opt-out" their students from receiving yellow-bus transportation for the remainder of the 2020-2021 school year. The more information we have about families who do not wish to use our transportation services, the more efficient we can be in providing services to CCS and charter/non-public schools city-wide.
Please keep in mind:
This survey is only for families with students who are eligible for yellow-bus services.

Families must actively opt-out of transportation services. We will still route transportation for families who do not respond or who indicate they WILL use yellow-bus services.
Sincerely,
Talisa Dixon
Superintendent/CEO, Columbus City Schools