Return to Headlines
Superintendent's Weekly Message - January 8, 2021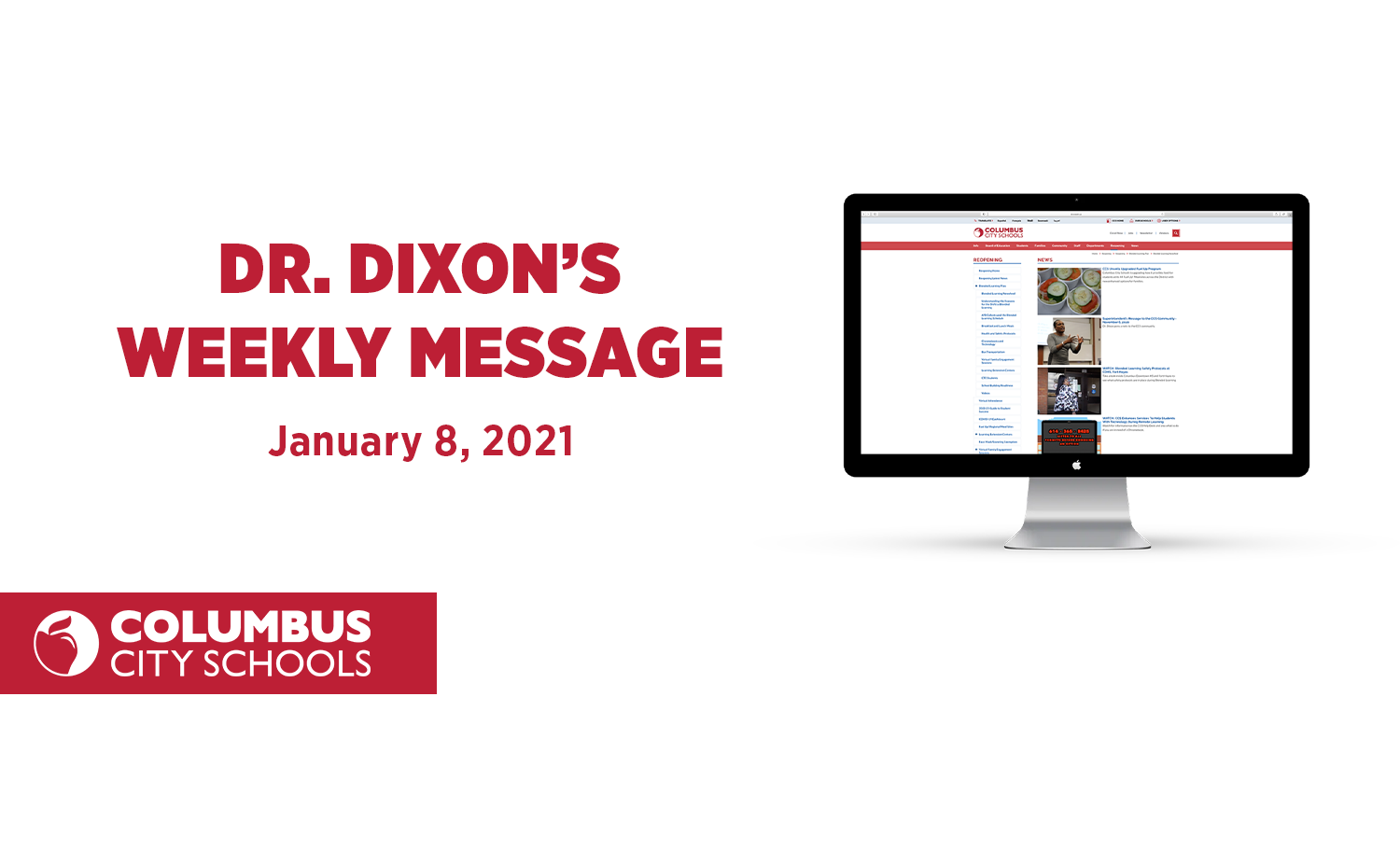 Dear CCS Community,
Happy New Year and welcome back from what I hope was a safe and restful winter break!
Our first week back was certainly eventful with the reprehensible actions that took place at the U.S. Capitol on Wednesday. Please click here to see my complete statement and reaction to these events.
Our Curriculum team provided resources to social studies teachers this week to help address the current events as part of their classroom discussions. It is important that we as educators and trusted adults talk to our students about these actions and support them should they have questions or concerns.
As I said in my statement on Wednesday, we must be there to lead by example, stand up for what is right and what is just, and support our young people through these troubling times.
Important Information and Updates
Please see the topics below for information and updates that are important for the CCS community to know.
Weekly Virtual Family Engagement Super Sessions
As we prepare for the anticipated return of students and staff to the classroom in a blended learning model, I will be joining our Virtual Family Engagement "Super Sessions" each Thursday evening to hear questions and concerns directly from our families.
At these sessions, we will talk about specific topics related to how we are ready to safely open our school buildings to staff and students and show what blended learning will look like in Columbus City Schools.
On Thursday, January 7, I joined the Super Session and talked specifically about what goes into ensuring our school buildings are prepared with all of the health and safety guidelines we must follow during the COVID-19 pandemic. Click here to watch a recording of this session.
Transition to Blended Learning Model
As I mentioned in my message to the community prior to the winter break, our earliest tentative target date for students to return to their school buildings in a blended learning model is Monday, February 1. All CCS students will learn remotely through at least the end of January.
The February 1 date is tentative as we continue to monitor public health data and work diligently to solve logistical issues that limit our ability to bring all students back to school buildings safely. We expect to have a decision in mid-January.
Click here to watch a video and learn more about the eight indicators we are continually monitoring to ensure our school buildings are ready to welcome students and staff for in-person classes.
CCS Digital Academy
Registration for the second semester, which begins on January 20, remains open for families who want to enroll their students in the CCS Digital Academy, a completely remote and self-paced learning option for students in Kindergarten through 12th grade. If CCS transitions to a blended learning model, all CCS Digital Academy students would remain in a completely remote learning environment. Visit your Parent Portal for information on how to register.
Fuel Up! Meal Program For Students
The District is offering five-day meal packs to all children 18 and under on Wednesdays from 11 a.m. to 1 p.m. and from 5 to 7 p.m. at 44 school sites around the city.
Families have the choice of two types of five-day meal packs:
A meal pack that does not require refrigeration or heating, OR

A meal pack that may require refrigeration at home and could include items such as fresh fruits and vegetables, sun butter sandwiches, cans of soup, rice packets, and shredded chicken packets.
Click here for more information or to find a Fuel Up! meal distribution site near you.
In-Person Athletics and Activities
In accordance with the continuation of the Stay at Home Advisory from Columbus Public Health and Franklin County Public Health, Columbus City Schools has extended the suspension of all in-person athletic and extracurricular activities until January 23, 2021.
On Thursday, January 7, alongside Board Members, I met with CCS students, coaches, and some parents, who came to the Columbus Education Center downtown to make their voices heard and advocate for the restart of winter sports and in-person activities.
Understanding that this is a difficult situation for our students who typically participate in winter sports and activities, our Board of Education has scheduled a special meeting to discuss this topic on Tuesday, January 12, at 5:30 p.m.
Registration Now Open for the 2021 HBCU Homecoming Virtual Event
Click here to register for our 3rd Annual HBCU Homecoming, which will be held virtually on Saturday, January 16. The HBCU Homecoming is a family-friendly, virtual community-wide event involving interactive parent workshops, panel discussions, exhibit space, student roundtable discussions, socio-emotional, health, and wellness activities, virtual battle of the bands, prizes and giveaways.
Current HBCU students from 20 colleges and universities will share their experiences in roundtable discussions and will be available to answer questions. This event also provides access and opportunities to youth serving organizations, scholarships, applying for financial aid, and more! Current HBCU students and alumni are strongly encouraged to attend as well.
COVID-19 Vaccine For School Staff
Governor DeWine has announced that the COVID-19 vaccine will be available for school district staff beginning on February 1, provided those districts agree to transition to a full in-person or blended learning model by March 1.
Columbus City Schools is working with Columbus Public Health on planning for the administration of the vaccine to District employees. We will provide more detailed information for staff members as it becomes available. The first step will be a brief survey of all staff members to gauge how many people are willing and eligible to take the vaccine.
Click here for more information about the COVID-19 vaccine and the state of Ohio's phased approach to distribution.
This opportunity for school district staff to receive the vaccine is certainly encouraging as we consider our options for in-person learning and bringing our students back to their classrooms safely.
Sincerely,
Talisa Dixon
Superintendent/CEO, Columbus City Schools