Return to Headlines
Starling Students Graduate from TAPS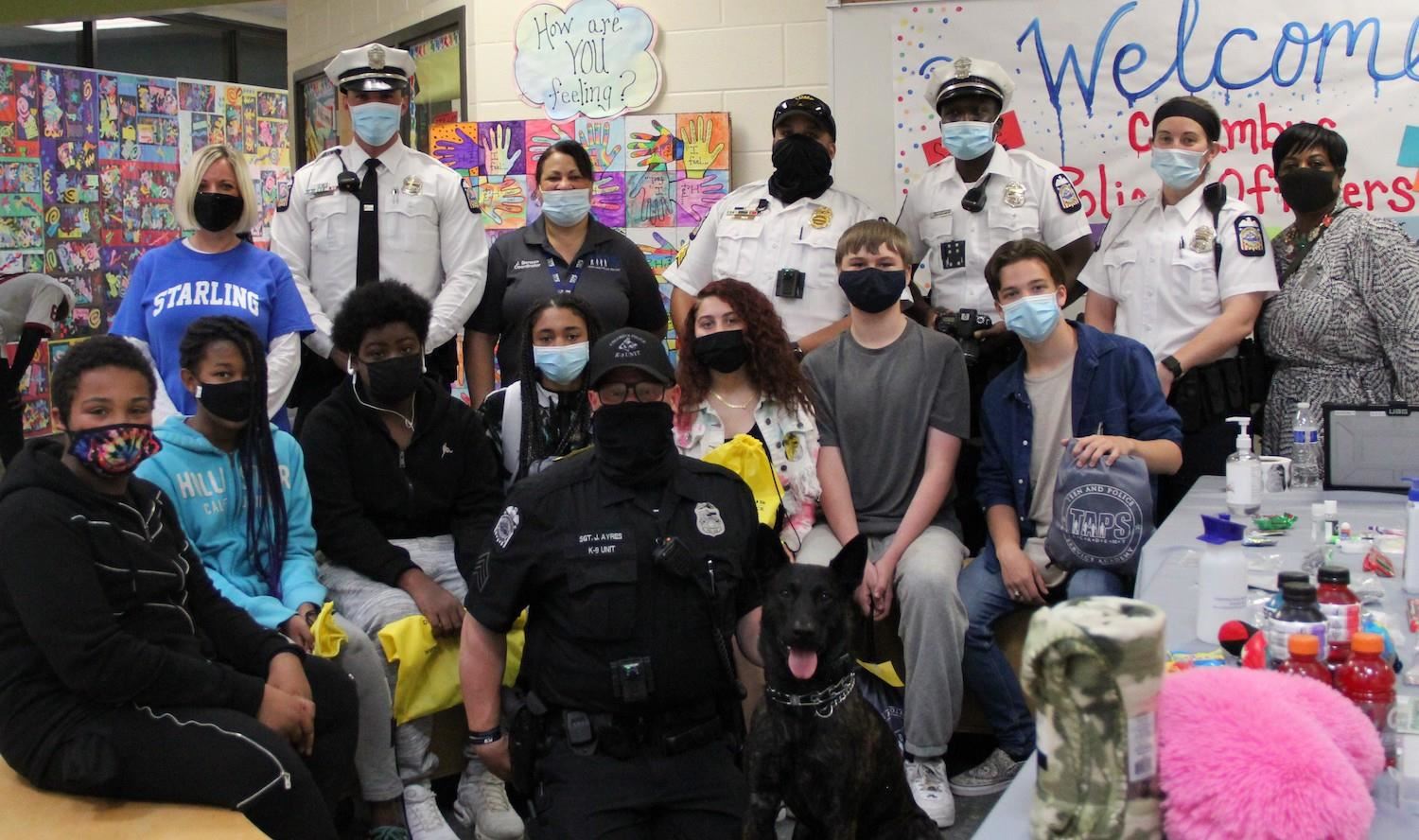 May 4, 2021 -- Sixteen students at Starling STEM Pre K-8 have successfully graduated from the District's Teen and Police Service or TAPS Academy. Today, several Columbus police officers including Jagger, the K-9 bomb sniffing dog, were at the west side school to congratulate students in person, hand out certificates and give students small tokens of appreciation.
"I am so proud of these students and all they achieved during the 11-week TAPS program," said Angela Moore-Tyler, Starling STEM Pre K-8 Principal.
TAPS Academy was first piloted in 2014 at Independence High School. Years later, the program partners with several CCS middle schools. TAPS tackles everything from bullying and gun violence to truancy and drugs. For two hours a week, Starling students met with police to talk and build relationships.
"No topic is off the table," said Jennifer Benson, TAPS Coordinator for the City of Columbus, Department of Public Safety. "Officers listened to students, and the discussions were open and honest."
Darren Chapman, a Starling 8th-grader, learned a lot from the virtual sessions with police. While he would have preferred to meet in person with the police, he understands the need to follow health and safety protocols.
"I learned a lot and was glad that I could open up and say what I wanted," said Chapman.
Principal Moore-Tyler admits she was a little hesitant at first to bring the TAPS program into her school.
"George Floyd had just been killed in Minneapolis when I was first approached about bringing my students face to face with local police," said Moore-Tyler. "The more I thought about it, the more I realized this was a good opportunity for my students."
Starling Middle School Counselor Teresa Murph was very impressed with the students who participated in the TAPS program.
"They met for two hours every Wednesday with police, which is an asynchronous day for students," said Murph. "Every week, these students showed up, and many of them had their video cameras turned on. The Starling students showed me how important this time was for them."
Columbus Police Officer Kofi Owusa-Ansah, a native of Ghana, said the students were shy in the beginning.
"The students opened up pretty quickly," said Owusa-Ansah. "The students also listened and asked questions, especially about gun violence in Columbus. I wanted the students to see and talk to me and realize you can be a minority and a Columbus police officer. There are no barriers."
At Starling, the principal and school counselor believe in less than three months, the TAPS program provided a safe, open forum for students to connect with Columbus police at a time when there is so much violence in the community. That's perhaps the greatest gift that both police and students received.