Return to Headlines
Superintendent's Letter to the CCS Community
September 18, 2020
Dear CCS Families and Staff,
As we complete the second week of our new school year, I would like to provide you with a few updates.
Opening schools in a completely virtual learning environment has at times proved successful and at other times challenging. We knew that this learning model would not come without minor setbacks and frustrations. Together, our principals, teachers, and staff, are RISING UP to support our students and families. We will continue to respond, troubleshoot, and assist you to help your student be successful.
Does Your Student Need a Laptop?
We know that in a completely virtual learning environment, the most important resource for our students is technology. That is why we have placed such an emphasis on getting Chromebooks in the hands of as many students as possible over the past two weeks. Combined with the number of Chromebooks we distributed last spring, we have now loaned out more than 35,000 student devices district-wide.
If you still need a laptop for your student – one for each student in your family – please contact your school principal right away. We want to make sure that any student who needs a Chromebook is able to access one. Click here for more information about how to use your student's Chromebook.
Virtual Family Engagement Sessions
Our Department of Engagement and our Family Ambassadors continue to host frequent Virtual Family Engagement Sessions. These are held online every Tuesday and Thursday from 6-7 p.m.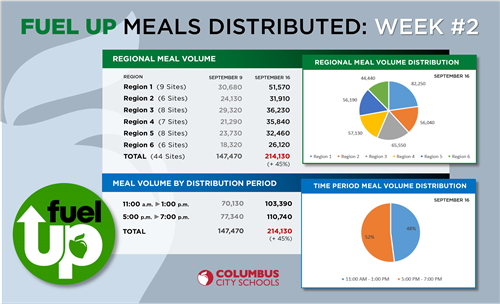 Free 5 Days of Breakfasts and 5 Days of Lunches
Last week, we began our expanded food distribution program to 44 sites across the district. Every Wednesday -- from 11 a.m. to 1 p.m. and from 5 p.m. to 7 p.m. -- families are able to pick up a free weekly five-day meal pack for any child 18 and under while our students are learning in our remote environment.
The meal packs contain five days of breakfasts and five days of lunches boxed together. To make it easy, we have assigned families a specific grab-and-go location close to their home. If a family does not know their meal site location, they can call their school office or our Factline at (614) 221-3228 for this information.
During the first two weeks of our expanded program, we distributed more than 500,000 meals across the 44 sites. Thank you to our Food Services staff who have made it possible to provide this valuable service to our families.
Spots Still Available for Pre-K
This past Tuesday was the first day for our pre-K students. We have 1,131 students enrolled in our early childhood program. We still have seats available, for both special needs and typical students, in our pre-K classes for those families who are interested. Contact the Early Childhood Education Central Enrollment Center at (614) 365-5822 for more information.
District-Wide Student Enrollment
District-wide we have seen a slight increase in student enrollment from this time last year. As of Monday, September 14, we had 48,704 students enrolled in Columbus City Schools. This total includes 45,332 students engaged in remote learning and 3,372 students engaged in our CCS Digital Academy.
Fall Sports Begin With Specific Guidelines
Many of our fall sports teams have started games and competitions this week, including cross country, golf, football, soccer, girls tennis, and volleyball. In order to safely hold these contests, we have implemented procedures that align with sport-specific guidelines as outlined by the Ohio High School Athletic Association.
The complete details of our athletics health and safety plan are available on our website. One thing for our community to know and understand is that due to COVID-19 health and safety guidelines, we must limit the number of spectators at each athletic event. Spectators will be limited to two tickets per student participating in the contest. No general admission or student tickets will be sold.
I thank everyone -- coaches, athletes, officials, spectators -- for following the guidelines so we can safely allow our students to participate in games and activities this fall.
Let's All Do Our Part
I know we all wish we could be back in the classroom with in-person learning, but until we are able to safely do so, CCS will do its very best to provide meaningful and rigorous learning experiences for our students.
We remain on track for students to return in a hybrid learning model -- two days of in-person instruction and three days of remote instruction per week -- after the first quarter ends in late October. We will continue to update families and staff on this timeline.
We must all continue to do our part to keep ourselves, our families, and our community safe during the ongoing COVID pandemic. That is the fastest way all of us will be able to return to the classroom.
Please be sure to wear a mask, social distance, and wash your hands regularly. We continue to receive regular updates from Columbus Public Health officials on the spread of COVID-19 within our district boundaries and will continue to monitor the city's rate of infection. You can learn more by visiting the Columbus Public Health COVID-19 site here.
Sincerely,

Talisa Dixon
Superintendent/CEO, Columbus City Schools