Ridgeview Student Awarded Brand-New Violin
December 13, 2022 -- Today is National Violin Day! And one Columbus City Schools student, in particular, has a special reason to celebrate this year.

Iris McConnell is an eighth-grade student at Ridgeview Middle School. Earlier this year, she received a letter informing her that she was a winner of the 2022 Dreamer Instrument Access Program. Along with the honor came the ultimate prize: a brand-new violin!

"I really like orchestra. Every new piece is my favorite, and I can't wait to play them all on my new violin!" McConnell said.

The Dreamer Instrument Access Program was developed in partnership with the Black Violin Foundation and the Baroque Violin Shop. The organizations worked collaboratively to give string instruments to young musicians identifying as Black, Indigenous, and Persons of Color.

"The objective of this program is to provide access to quality instruments for existing musicians of color, and to take away the cost burden of purchasing an instrument to prospective students who wish to begin their journey as classical musicians," according to the Black Violin Foundation's website.

Allison Wodkowski is a Strings Specialist at Ridgeview and Dominion Middle Schools. She has been McConnell's orchestra teacher for three years, and she was the one who came across this opportunity and encouraged McConnell to apply.

"Iris is a really ambitious student and has done a lot to find herself in the way of opportunities. All I really have to do as her teacher is just open those doors, and she is ready to absolutely walk through them on her own. Part of my job is to put my students in the way of opportunity so that they can go on and be successful," Wodkowski said.

McConnell thanked her teacher for years of support and encouragement.

"She's amazing. She has pushed me to be the best I can be and to do the best that I can do," McConnell.

Both recognized McConnell's mother, Norma Santiago, as a force behind her daughter's success.

"Iris's mother has been such a great partner. That's always what you want when you're working with parents, especially in my position working with parents over multiple years," Wodkowski said.

"She's always there for me, and just like Ms. Wodkowski, she always helps me be the best I can be," McConnell said.

The Baroque Violin Shop CEO Stephen Heck congratulated the recipients, offered advice, and shared encouragement in letters sent to the instrument recipients.

"Playing a stringed instrument takes extraordinary patience, diligence, and hard work. You would not be where you are today if you didn't possess those qualities. So even though we've never met in person, I'm incredibly proud of each of you," Heck wrote.

The work of a successful school orchestra goes beyond simply hitting the right notes.

"We are a team, and we're a team like any other. We have to trust each other, we have to rely on each other, and we have to know each other well. Experiencing all that through music and having everybody on the same path is very important," Wodkowski said.

McConnell said she plans to continue playing and see where it takes her.

"I have no doubt that Iris is going to be successful in lots of different ways throughout her life, and I think music will always be a part of that," Wodkowski said.

And to those who awarded her the violin, McConnell would like to say, "THANK YOU SO MUCH!"

To any students looking to get involved in orchestra, Columbus City Schools provides opportunities and avenues for students to learn and participate in the arts. Contact your school's music teacher to learn more.
Columbus City Schools All City Orchestra 2022-23
All-City Orchestra auditions are scheduled for Monday, November 28th from 6pm-8pm at Ft. Hayes HS. The final concert is scheduled for Sunday, March 12th at 3pm in the Lincoln Theater. String, woodwind, brass, and percussion players are invited to audition and register using the link on the flyers! Walk-ups will also be accepted on audition day.

All CCS Music Teachers are encouraged to sign up for a Music Educator Card, where they will receive 2 free tickets to every Columbus Symphony Masterworks performance this season! Details can be found on the Columbus Symphony Orchestra website. All City students will also receive 2 free tickets to Masterworks performances as well.
EASTMOOR ACADEMY TEACHER HELPS STUDENTS WITH MULTIPLE DISABILITIES FEEL THE MUSIC
William Compton, Director of Instrumental Music at Eastmoor, established a class for students with multiple disabilities in 2009. Take a look inside the classroom and see how this experience enhances students' education.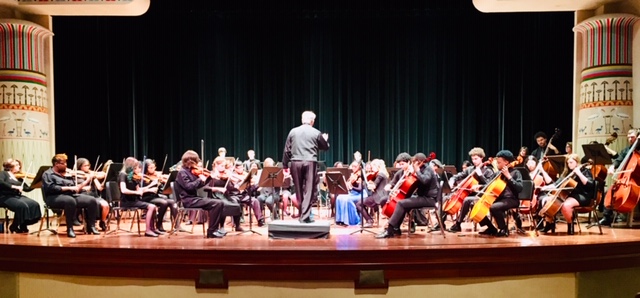 Congratulations to the following students who are representing Columbus City Schools in this year's All Ohio State Fair Band.

From Beechcroft High School-Rilea Race

From Columbus Alternative- Ethan Cravens-Brown

From Centennial High School: Katie Beyer, Catherine Casbohm, Courtney Montgomery, Connor Murphy, and William Potter

From Marion-Franklin High School- Samuel Mills

From Mifflin High School- Myah Barbour

From Northland High School- Jonathan Wine

From Whetstone High School- Audrey Beers, Adam Davis, Daniel Johnson-Brewer, and Nathalie Smelko
Paganini's Violin Il Canonne in Columbus
The 2019 All City Orchestra under the direction of Andrés Lopera. This ensemble provides a full-orchestra experience exclusively for high school students enrolled in the Columbus City School district. Rehearsals are held weekly, beginning in December and culminating with a concert held on March 10, 2019 at the Lincoln Theatre.